2015 employment practices lawsuit data is in: which states are at the highest risk?
Every company encounters a hiring situation in which things don't play out quite as planned.  A candidate is overly demanding or misaligned with the hiring team, an employee didn't perform as expected or wasn't a cultural fit…the list can go on forever.  Unfortunately, it's not uncommon for these problems, once "resolved" by personnel changes, to resurface in the form of complaint letters with employment practices-related allegations.  Discriminatory hiring/firing, sexual harassment, hostile work environment, and so on.
Insurance carrier Hiscox just released a study of 2015 employment lawsuits to see just how common those complaint letters were for employers with under 500 employees (most of startupland!).  You can check out the graphic below, but the punchline is this:
Startups often contend with an employment lawsuit risk of 11.7% or higher.
Of the major startup hub states, California has the highest risk and is 40% above the national average.  (NOTE: this checks out with our internal data as well)
On average, it takes 275 days to resolve an employment dispute
Dispute resolution (in whatever form it takes) costs $125,000 on average, although several cases against <500 employee companies were litigated or settled for closer to $500,000.
Check out the map below to see where you fall on the EPL risk scale…and reach out so we can answer any questions!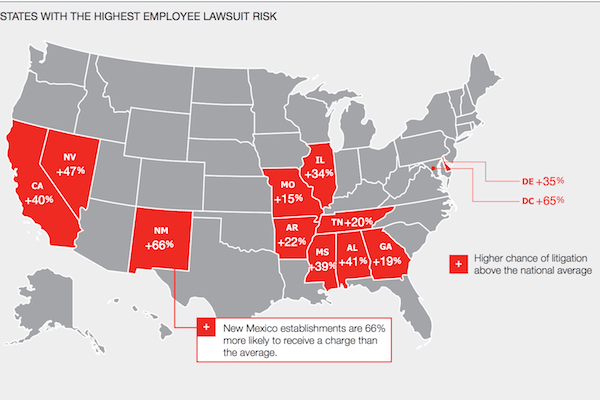 ---
To learn more, you can always reach out to a member of our team by emailing info@foundershield.com at any time. Or create an account here in order to get a quote for a comprehensive program that protects your business!
[vc_btn title="GET A QUOTE" style="outline-custom" outline_custom_color="#ee2524″ outline_custom_hover_background="#ee2524″ outline_custom_hover_text="#ffffff" shape="square" size="lg" align="center" link="url:https%3A%2F%2Fapp.foundershield.com%2Fusers%2Fsign_up|||"]