Funding Trends Digital Health Companies Should Know
Remember when healthcare used to lag behind other industries with digitization? This delay was partly due to regulations and privacy concerns when digitizing records with sensitive information. But with a growing number of reports stating that digital interventions improve health outcomes and COVID-19 spurring a rapid uptake of all things health technology-related, investors saw 2021 as an opportune time to dive into the market by investing in digital health companies.
However, the war in Ukraine and inflation concerns have damaged investor confidence in 2022, and lamentably, digital health funding fell. But the market is still moving steadily. Here's a breakdown of the lasting effects COVID-19 has had on digital health companies and the latest funding trends. 
The Popularity of Digital Health Companies Pre-and Post-Covid
Digital technologies to manage illness and promote wellness were already in full swing before the pandemic began. They'd begun to play a critical role in democratizing healthcare by making it more accessible and improving health equity. Trends, like funding deficits in healthcare systems and price pressure on pharmaceuticals, also meant healthcare players had no choice but to look at reducing operating costs and improving productivity. 
However, this was all happening amidst worries that rapidly advancing technology could exacerbate exclusion, introduce biases and widen the digital divide.
But one primary value proposition trumped all: Digital health technologies could reduce healthcare costs. 
Then, COVID-19 hit, ushering widespread acceptance of telehealth, telemedicine, and other innovations, catapulting digital health companies into superhero mode. In the face of safety measures, the demand for digital transformation became more pressing, and healthcare services faced extreme pressure. 
It's no surprise that venture funding for digital health companies reached $29.1 billion in 2021. New technologies promised improved access to healthcare, lower cost of care, reduced inefficiencies, and personalized healthcare. 
Now, as a result of COVID-19, consumer attitudes toward healthtech have improved, and physicians continue to view telehealth more favorably than before.
Digital Health Funding Trends: What's Fueling Investors?
Global digital health funding declined for the second consecutive quarter of 2022, falling 32% from Q1 in 2022 and 58% from its all-time high in Q2 of 2021. 

Source: CB Insights
However, this drop in funding quarter after quarter is likely due to a return to normality post-pandemic. Mergers and acquisitions (M&A) activity has also decreased from 144 deals in Q1 of 2022 to 83 in Q2.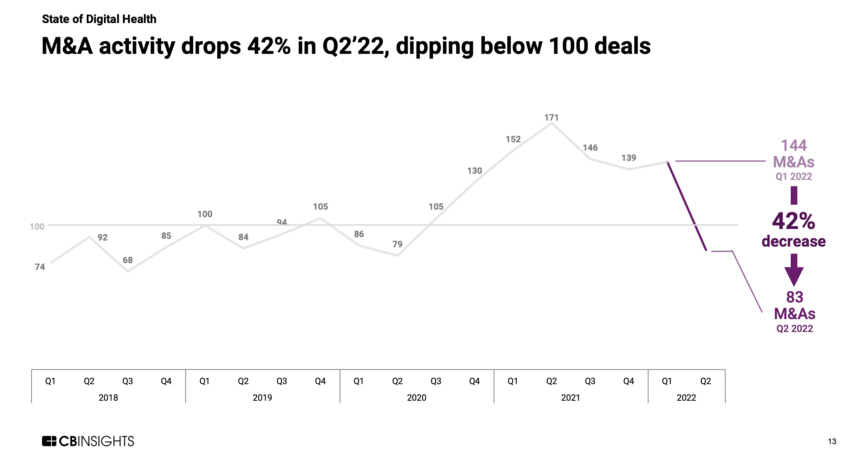 Source: CB Insights
Specific Categories 
A large bulk of digital health companies develop tech that has a direct impact on patient care, such as more effective therapies and remote patient support. In 2020, every value pool in this category of patient care was expected to grow by at least 10% per annum through 2024. 
There's a mix of funding across all the value pools, though, including care delivery, wellness and disease prevention, and screening and diagnosis, among others. But new disrupters must take note of investors' appetite for solutions that can: 
Identify the correct patients (through at-home diagnostic tools)

Enhance drug research and development processes (with clinical trials)
Plus, health IT funding is up by 27% QoQ — the third-highest quarter on record — with US-based startups capturing most of the funding. 
Sustainability 
Investors want to integrate Environmental, Social, and Governance (ESG) criteria into their decision-making, and health equity can lead to more social impact. The number of new sustainable funds hit an all-time record in 2021, meaning there are no signs of this trend slowing down. Startups can increase their chances of securing funding by incorporating sustainable practices from the get-go and showing they are cautious about impact-washing.
Early-Stage Deals 
Venture capital investors are still leading most funding rounds, with early-stage deals dominating 59% of the market. And this is despite dropping 15% of the market share from 2021. 
While late-stage valuation sinks, there are plenty of early-stage opportunities for Asia and Europe too: The US only leads deal share by 38% compared to Asia at 26%.  
Top 4 Investors
Gaingels and Insight Partners are the most active digital health investors in Q2 of 2022 and are backing nine companies each. Here's a little more information about the top four VC investors: 
1. Gaingels
A leading LGBTQIA+/Allies investment syndicate and one of the most active private investors in North America. Supports diversity and inclusion in the VC ecosystem and influences social change through investing. Portfolio includes: Bolt, Udemy and Masterclass.
2. Insight Partners
A private equity firm based in New York City investing in growth-stage technology, software and internet. Portfolio includes: Shopify, Wix and Shutterstock. They are choosing to back artificial intelligence (AI)-powered digital health startups.
3. General Catalyst
An American venture capital firm focused on early stage and growth investments with founders challenging the status quo. Portfolio includes: nuffsaid, Airbnb and Bullhorn. 
4. Eight Roads Ventures
Invests in healthcare and technology companies that impact populations worldwide. The global venture platform provides entrepreneurs access to an ecosystem to learn from. Portfolio includes: Cytek, Fever and Plaid. 
The Takeaway
Healthtech uses technologies to help patients receive more efficient, affordable, and convenient care. Unfortunately, there are many risks associated with the industry as it is a heavily regulated sector. Then, when you add funding into the mix, a company may be unable to raise equity financing on time and on acceptable terms — but you're not alone. 
Understanding the details of what coverage your company needs can be confusing. Founder Shield specializes in knowing the risks your industry faces to make sure you have adequate protection. Feel free to reach out to us, and we'll walk you through the process of finding the right policy for you.
---
What to know more about insurance for digital health companies? Talk to us! Please contact us at info@foundershield.com or create an account here to get started on a quote.