Elon Musk vs. Investors: Why D&O Insurance is Essential
Elon Musk's recent tweets about secured funding to take Tesla private sent shock waves through the stock market. The fallout of those tweets includes an SEC lawsuit and two securities class action suits.
Musk is most widely recognized for founding SpaceX and Tesla. His foray into entrepreneurship began in 1995 when he dropped out of Stanford to start Zip2 – a corporation that created an internet-based city guide.
Unfortunately, it isn't Musk's entrepreneurial achievements that have been making headlines lately. Allegations of defamation, fraud and misrepresentation have surfaced. The latest unfurling is the SEC settlement which has Musk stepping down as Chairman of Tesla and paying a $20m fine. Tesla has also agreed to pay a $20m fine.
But the settlement doesn't put an end to the legal trouble. Still pending are the securities class action suits stemming from the same tweets that sparked the SEC investigation.
And in a completely unrelated incident, Musk himself has been slapped with a $75,000 defamation suit from a British rescue diver. Musk and the diver exchanged some colorful tweets during Musk's attempt to assist in the rescue of 12 boys and their soccer coach in Thailand.
Opinions about Musk's behavior aside, an overview of the recent trouble allows us an in-depth look into the importance of public company directors and officers insurance (D&O) as well as how the policy responds when trouble arises.
But before we dive into the insurance discussion, let's go over some details about Musk's recent actions and the charges he and Tesla face.
The SEC Charges Against Musk
The SEC trouble for Musk began in early August when he tweeted about a deal to take Tesla private.
Am considering taking Tesla private at $420. Funding secured.

— Elon Musk (@elonmusk) August 7, 2018
Later that day he tweeted,
Investor support is confirmed. Only reason why this is not certain is that it's contingent on a shareholder vote. https://t.co/bIH4Td5fED

— Elon Musk (@elonmusk) August 7, 2018
The announcement shot Tesla stock prices up to a high of $387.46 per share, before closing at $379.57. The increase is nearly an 11 percent jump from the previous closing price.
The next day, probes into the truthfulness of those tweets began, and board members released statements that they were still evaluating the possibility of a take-private deal.
About seven weeks later, the SEC filed a complaint against Musk, stating,
"Musk knew or was reckless in not knowing that each of these statements was false and/or misleading because he did not have an adequate basis in fact for his assertions."
SEC Charges Against Tesla
The SEC charges against Tesla stem from the same tweets. The company is permitted to make announcements via Musk's Twitter feed, but the SEC claims there are no "disclosure controls or procedures in place" to ensure those tweets are in accordance with the company's SEC filings or that they are even accurate.
SEC settlement: Both Musk and Tesla have settled the charges with the SEC. The settlement includes:
Musk's removal as Chairman and the appointment of an independent Chairman. Musk will be ineligible to be re-elected Chairman for three years.
Tesla appoints a total of two new independent directors to its board.
Tesla establishes a committee of independent directors and creates additional controls and procedures to oversee Musk's communications.
Musk and Tesla will each pay a $20m penalty.
The repercussions of the SEC settlement may run much deeper than the details. At least one columnist points out the agreement could make it easier for shareholders to sue boards.
Class Action Lawsuits
As if the SEC troubles aren't enough, two Tesla shareholders filed securities class action lawsuits against Musk and Tesla. Both suits allege that Musk engaged in misrepresentation and violated the Securities and Exchange Act of 1934.
One of the suits points to Musk's longstanding Twitter war with short sellers, noting that Musk often used the social media platform to "taunt and confront skeptics of his company."
It points to a history of tweets where Musk seems to be warning short sellers of a comeuppance:
On May 4, 2018, Musk tweeted the "short burn of the century comin soon." And later, the "sheer magnitude of the short carnage will be unreal. If you're short, I suggest tiptoeing quietly to the exit"
On June 17 he tweeted that Tesla short-sellers had "about three weeks before their short position explodes."
Still, the heart of the class action suits is the trading activity that followed Musk's August 7 tweet. Trades spiked to 30m shares from an average of 8m.
How Does D&O Respond to Protect Musk and Tesla?
D&O insurance is meant to protect a company's directors and officers from financial damage arising from a lawsuit. The policy pays for defense, court costs and settlements. It responds in one of two ways – by either paying the defense costs and settlements for the individual (Side A) or by reimbursing the company after it indemnifies the individual (Side B). It also extends coverage to the entity itself (Side C). Here's a breakdown of how D&O is structured: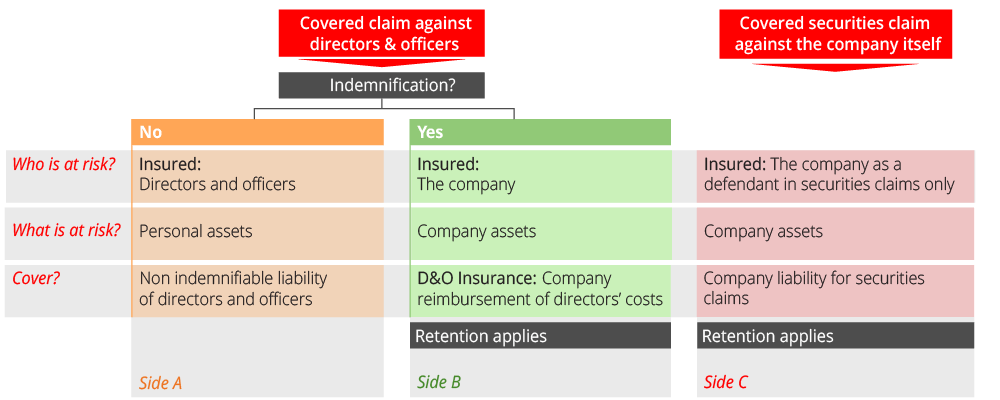 The recent trouble with Musk and Tesla is the type of scenario Side B intends to cover. Legal fees and settlements are among the types of costs for which Side B coverage indemnifies.
Tesla itself has also agreed to pay $20m in damages. The entity's settlement is the type of cost Side C covers.
As far as the class action suits, sides B and C may be useful. Damages and defense costs are unknown but based on precedence, the suit is open only to investors who traded based on the tweet.
Side A coverage applies only if – due to insolvency or legal restrictions – the corporation couldn't pay the damages for Musk.
As far as the defamation claim arising from Musk's scuffle with the British rescue diver, defamation, libel and slander is typically excluded from public company D&O insurance, so there may be no coverage under D&O for the $75,000 in compensatory damages and punitive damages if they are awarded.
What Will Happen Next?
We can't know for sure if Tesla has D&O insurance or what their policy limits are – limits can range from $5m to $500m – but the insurance discussion on their 2017 10K filing indicates at least a partial posture of self-insuring. The statement says:
"As a general matter, we do not maintain as much insurance coverage as many other companies do, and in some cases, we do not maintain any at all…A loss that is uninsured or which exceeds policy limits may require us to pay substantial amounts, which could adversely affect our financial condition and operating results."
Also, in the parking lot for now is the outcome of the class action suits. At least some analysts are pointing to billions in damages and the likelihood that more class action suits may follow.
Public Company D&O Insurance and Other Claim Scenarios
Securities class action suits are on the rise, but these are not the only claims from which a public company and its officers must be protected. Here are a few scenarios in which a public company D&O policy responds:
A Disclosure Claim: As a company officer, you announce expected higher earnings due to a large real estate development deal. Unfortunately, the deal fell through, and the company suffered losses.
Now a class action suit has been filed by the shareholders who traded after the positive announcement.
Shareholder Derivative: This is a claim brought on by a shareholder suing a director or officer of the company for some type of wrongdoing or mismanagement.
Theft of Intellectual Property: A claim arising from an allegation that you are using the IP of another company to create an unfair advantage in the marketplace.  This could include infringement of trade secrets, copyrights and patents.
When to Consider D&O Insurance
As Musk and Tesla illustrate, proper D&O insurance is a must to protect both the entity and executives from financial loss when trouble arises. The earlier you put protection in place, the better. Ideally, consideration and discussion of D&O insurance arise long before your company goes public.
If your company is using crowdfunding, you must have IPO D&O in place as securities claims can arise even as the company is preparing an IPO.
---
Want to know more? Talk to us!  You can contact us at info@foundershield.com or create an account here to get started on a quote. Want to read more on the subject?  Check out our other blogs about D&O insurance.