Growing Pains: The Future of Electric Scooters and Bike Sharing
---
Update: We've released a new whitepaper examining the Micro Mobility industry. We dive into the insurance landscape, legal climate and how to approach risk management for companies in this sector. You can download the report here!
---
In the age where most families have at least 2 vehicles, it's no secret that metropolitan cities across the world are struggling with the influx of cars and a massive increase in traffic and air pollution.
What is smart mobility?
Smart mobility aims to combat these issues with data-driven technology. When we talk about smart mobility, we don't just mean the explosion of on-demand ride services like UBER and Lyft, car sharing programs like Zipcar and Car2go or even the ambitious pursuit of autonomous, driverless cars by Tesla. Smart mobility also includes delivery robots, electric scooters, and bike sharing. You might have seen them scattered around your city, and if you haven't, keep your eyes peeled because the bike-sharing services market is expected to grow at a 12.5% CAGR until 2026.
So how do they work?
Electric scooters and bikes can be rented directly through a provider's mobile app, allowing you to zip through city streets at around 15 miles per hour. Payment is typically made through the app, which will provide you with a pin code to unlock the e-vehicle and be on your way.
Electric scooters, or dockless bikes, can be left anywhere in the city (i.e. the subway station or a bus stop). In contrast, electric bikes require docking stations, which make them easy for the city to regulate and for users to locate.
Market growth
Smart mobility is becoming the transportation of the future for the ever-busy urbanites seeking a quick, easy and affordable transportation solution.
Over the past few years, a number of startups emerged in the smart mobility space – Lime, Bird, JUMP and Motivate (who run NYC Citi Bikes), just to name a few. Just look at the growth of bike-sharing in these major urban areas: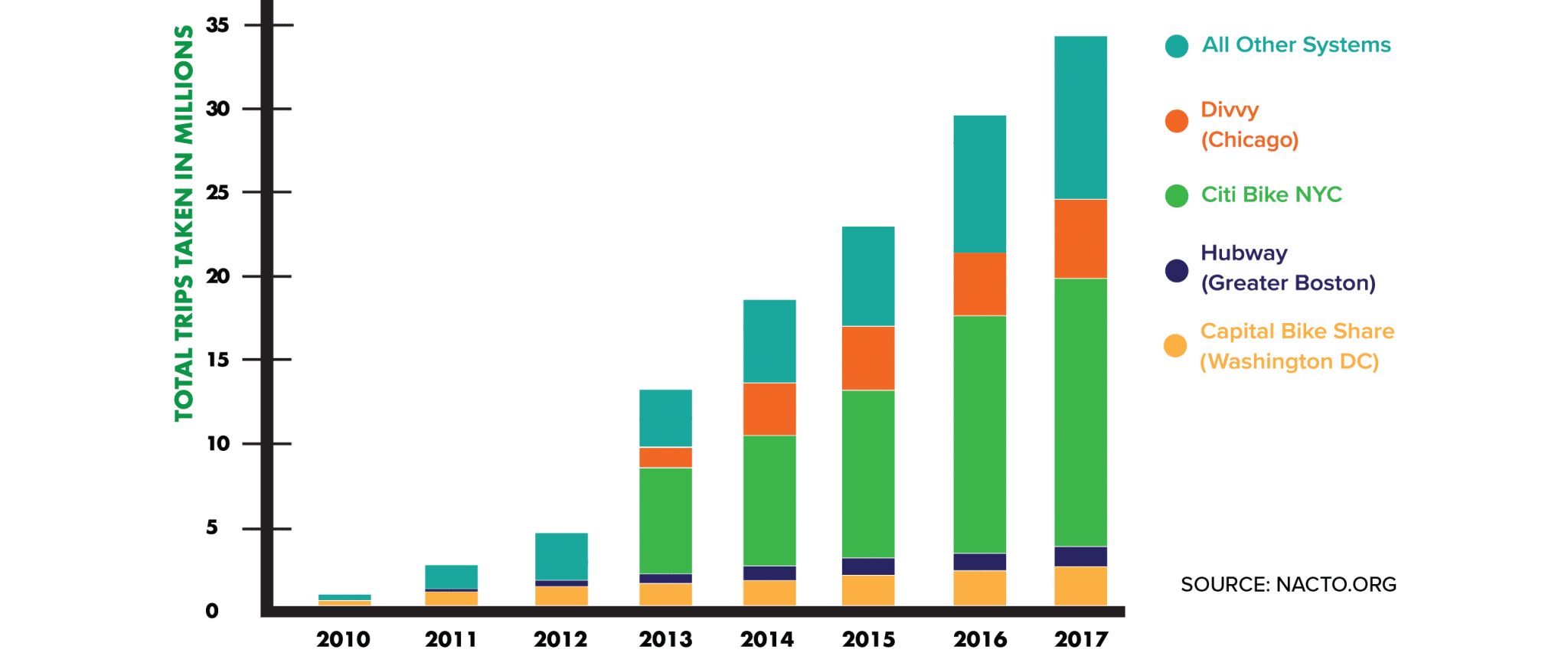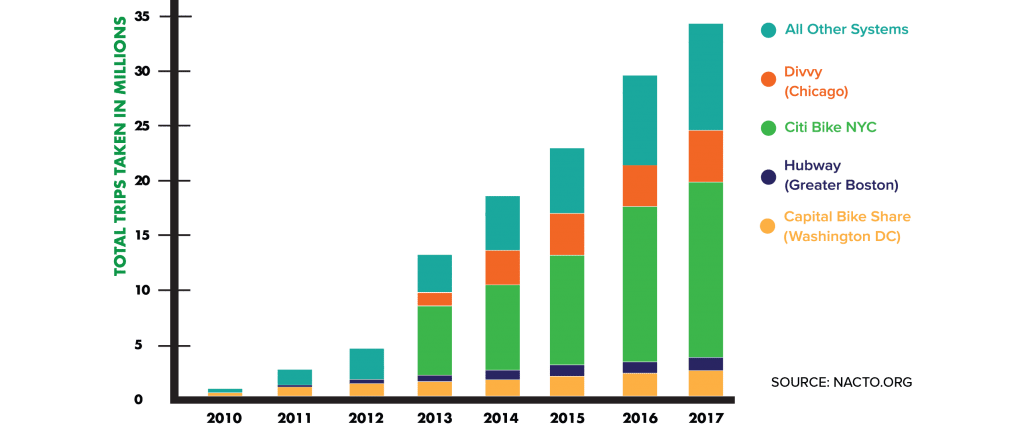 E-scooters also help to solve the growing traffic and air pollution problems, so it's no surprise that the giants of the transportation industry, such as UBER and Lyft, are moving in on this new market.
Last year, UBER made it clear that they intend on becoming the "Amazon of transportation" by investing in and then purchasing a bike-sharing startup JUMP for over $200M. You may have noticed the new "Bikes" section in their app: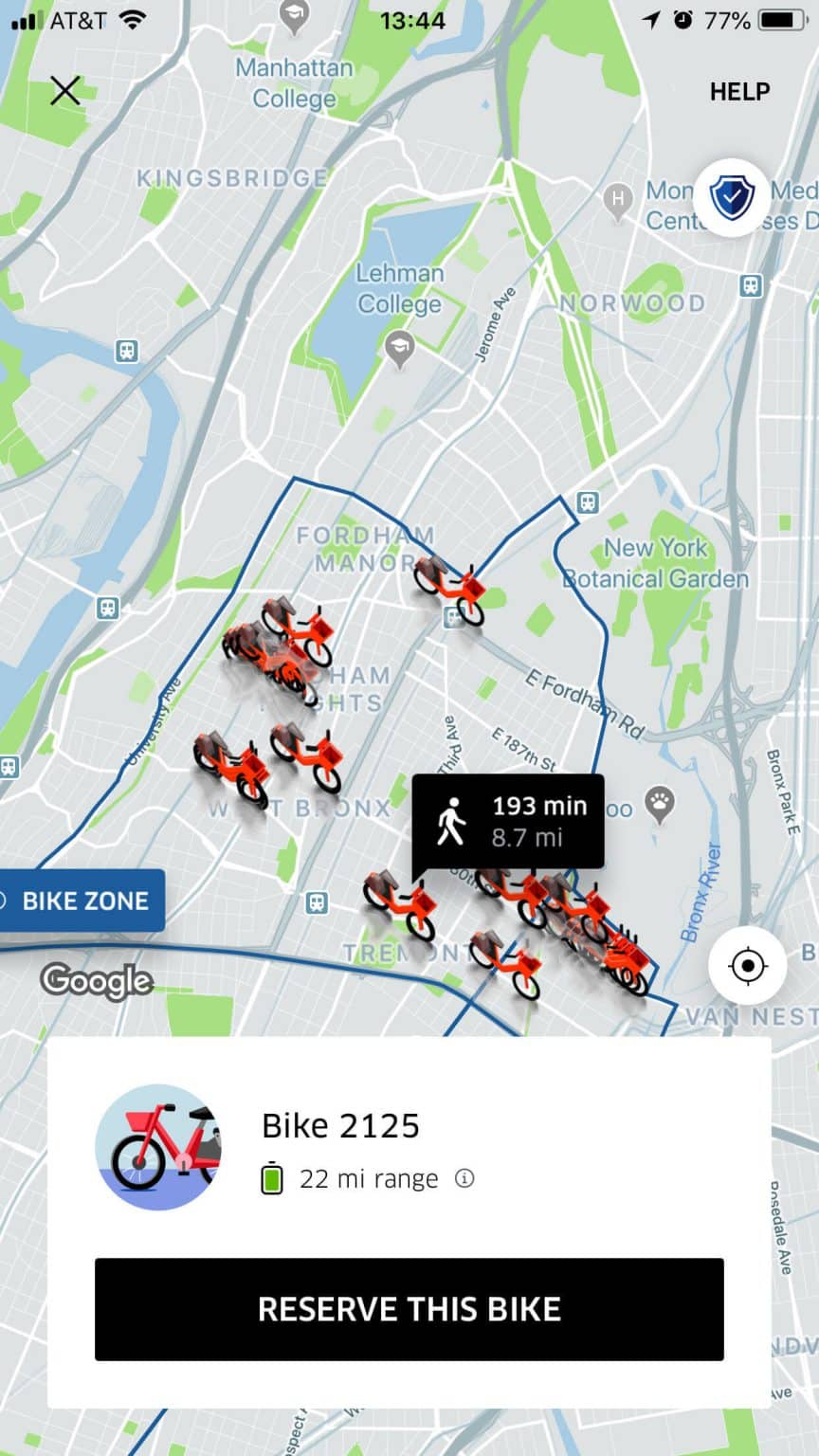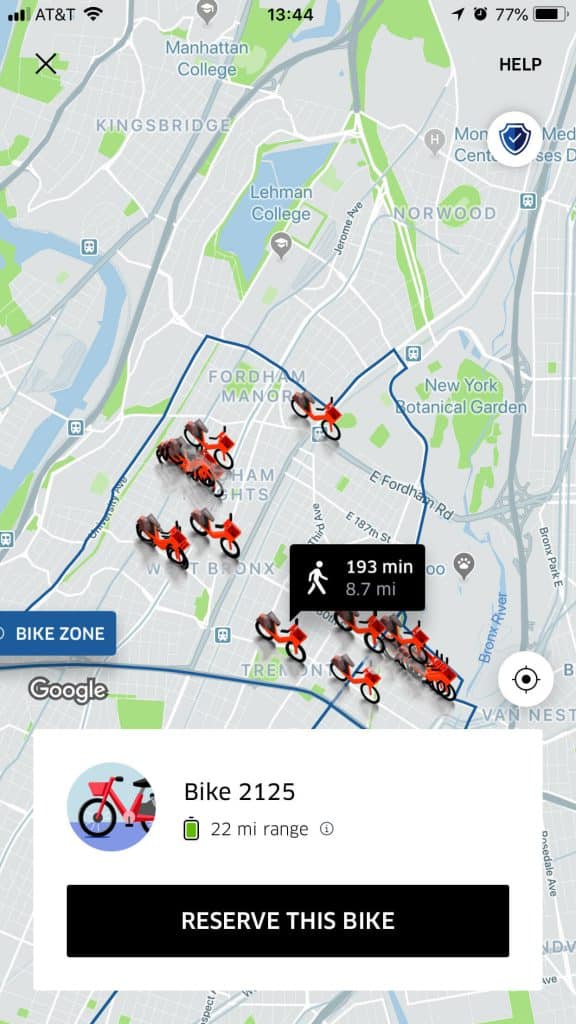 Earlier this year, they invested over $300M into Lime, the dockless scooter provider, which you will soon be able to rent through UBER's mobile app. Lime is currently the leading provider in the dockless scooter arena, operating in over 70 markets with over 35,000 scooters deployed annually. A partnership with UBER is sure to increase these numbers exponentially. UBER's strategy is to bridge the gap of "First-Last mile" transport:


UBER's main competitor, Lyft, refuses to sit on the sidelines. They recently purchased JUMP's competitor, Motivate, which also operates a sizable fleet of docked bikes.
The pushback that provider companies face
While electric scooters and bikes are making life easier for urban dwellers, city officials are not as excited about this new phenomenon. As dockless scooters and bikes become increasingly popular, the more space they are taking up on city sidewalks.
They also raise questions regarding where on the streets they belong. Will they be on sidewalks, potentially endangering pedestrians? Are users required to wear helmets? Will the provider be sued if an injury occurs?
These issues present a serious risk in the form of possible lawsuits.
So far, a few cities have been less than thrilled with this seemingly great idea. The city of Milwaukee has sued the dockless scooter provider Bird, declaring the scooters unregistered motor vehicles that can not be legally operated on the streets and sidewalks of the city.
Similarly, in an effort to clear the streets, San Francisco banned all electric scooters such as Lime and Bird off its streets. To bring order to the chaos that scooters created, San Francisco is allowing the providers to apply for a permit where they need to demonstrate their plans to keep sidewalks clear of the scooters, scooter access to low-income riders and sharing data with the transportation agency.
The city of Santa Monica took it a step further, launching a pilot program, only approving Lyft and Uber-owned JUMP to operate in the city due to their experience in the transportation space and high customer ratings. It's no wonder that Lime and Jump which consider Santa Monica as one of the hubs for their operations are asking their users to protest this decision.
Other cities, like Seattle, have capped the total number of scooters that they allow per provider company, as well as introduced a hefty annual fee for the provider if they want to operate there.
E-scooters and bike sharing insurance risks
How does insurance play into this new market? Let's take a look at the primary insurance policies for micro-mobility companies should have as part of their risk management suite and claim scenarios as they relate to mobility vehicles.
General liability – A general liability policy covers claims against the company for bodily injury or property damage that occur as a result of negligence. For a company that is responsible for thousands of scooters or bikes on public streets, the exposure is significant. A claim example would be, a scooter rider side-swiping a car, causing damage. Or the same rider driving right into a child on a busy street, causing injuries. Since electric scooters are not considered street legal motorized vehicles, the users are not obligated to carry insurance to ride them. All of the liability falls on the provider, which is why this is a crucial coverage for any smart mobility company to have.
Property – The property coverage will address the damage to the scooters, bikes, and robots themselves. With hundreds of users on a daily basis, these e-vehicles are likely to get damaged. A bike can be carelessly dropped on the ground by its driver, or if there is an accident involving a car or even another bicycle, significant damage can occur.  Property hedges a smart mobility company's inventory risk.
Cyber liability – Cybersecurity has become a commonly discussed topic in the media. Data breaches are no longer a rare occurrence, and it's crucial for any smart mobility provider to consider this insurance coverage. Since e-vehicles can be reserved directly through mobile apps, sensitive user information is at risk in the event of a potential data breach. A breach could mean millions in losses, especially with many states adopting more strict privacy and notification laws.
The future of electric scooters and bike sharing
While e-vehicles continue to become more common in cities across the world, it will still take time for city officials to fine-tune regulations. However judging by trends in the industry, e-vehicles are here to stay.
This new technology will force insurers to review their standard forms and make provisions as it relates to the unique risks that e-vehicle providers face. Until then, the coverages previously outlined are necessary protections for any company providing e-scooters or e-bikes for hire.