Startup D&O Insurance: What You Need to Know
Every other day, we read headlines about new legal and settlement costs impacting public companies, like Twitter, Walgreens, or Verizon. Not even government agencies are exempt from these costly management liability suits (i.e, NAACP vs. USPS)! That said, private companies and the venture capitalists (VCs) supporting them must also navigate our current directors and officers (D&O) landscape. Private company board members and startup founders must understand the D&O insurance startups need to stay on track and ensure financial protection. So, let's break it down.
D&O Insurance Startups Need [and Why]
Directors and officers make tough decisions every day. As a result, directors & officers (D&O) insurance protects them and their personal assets while they do their jobs. D&O insurance covers the individual directors and officers of a small business from claims based on their decisions made while acting in their corporate capacity.
Coverage provided under a D&O program may vary from policy to policy. However, most directors and officers insurance protects board members and individuals of an executive team, safeguarding their personal assets. D&O can also protect smaller companies by reimbursing the corporation after indemnifying a director or officer. It can even indemnify the company itself in some situations.
Foundational Startup Insurance 
Insurance for startups is one tier of a risk management plan; however, sometimes it's tough to know what each business insurance policy really covers. Remember, directors and officers insurance is specific coverage, but each policy has a purpose. Let's review some fundamental startup insurance policies that are vital but don't provide the same coverage as directors and officers insurance :
Risks Directors and Officers at Private Companies Face
Directors and officers at small businesses and startups, especially those on the board of directors, face a myriad of risks due to their decision-making roles. The following are a handful of risks these executives may face regularly.
Breach of Fiduciary Duty 
Directors and officers have a legal obligation to act in the best interest of the company and its shareholders. Any perceived breach of this duty, such as failing to adequately oversee operations or making decisions that result in financial loss, could lead to lawsuits.
Financial Mismanagement 
Poor financial decision-making or misrepresentation of the company's financial health can lead to claims by investors, creditors, or other stakeholders, especially if these actions lead to bankruptcy or significant financial loss.
Employment Practices Violations
Directors and officers can be held personally liable for violations of employment laws, including wrongful termination, discrimination, harassment, or failure to comply with wage and hour laws.
Regulatory Compliance Issues 
Non-compliance with applicable regulations can result in lawsuits or penalties. This is particularly relevant for companies in heavily regulated sectors, but it can apply to any company with regard to laws like data protection or environmental regulations.
Mergers and Acquisitions Liability
During periods of corporate restructuring or M&A, decisions made by directors and officers can come under scrutiny. If the process is mismanaged or stakeholders feel they were misled, they may bring claims against the directors and officers.
Given these risks, directors and officers insurance (D&O insurance) is crucial to protect the personal assets of these key individuals. It covers defense costs and damages arising from certain types of allegations and lawsuits.
Understanding D&O Insurance Coverage
D&O insurance is unique insurance because of its 3-tiered coverage, providing different aspects of protection. These three layers include:
Side A

: Suppose directors are personally sued and forced to pay defense costs and settlements. This portion of cannabis D&O insurance kicks in to protect the individual. However, Side A will only pay the individual directors if the entity (company) can't, such as if the company is insolvent. Many pre-going public companies purchase additional Side A coverage limits, a strategic approach to risk management.

Side B

: When the entity indemnifies individuals named in the lawsuit, Side B coverage reimburses those costs. However, it only extends to indemnifying insured individuals named in the lawsuit.

Side C

: This coverage provides a balance sheet protection for the company named in the lawsuit alongside an individual executive. Side C coverage will reimburse the costs and settlements incurred. 
*In most cases, Side B and C are subject to a retention while insolvency Side A claims are not.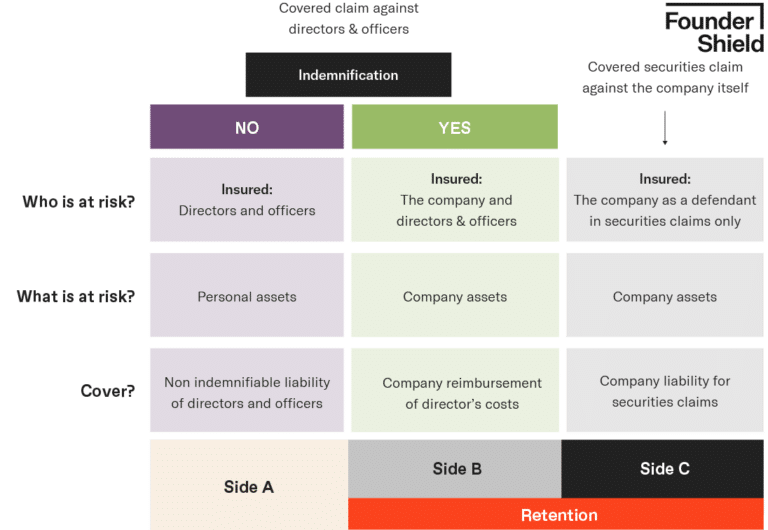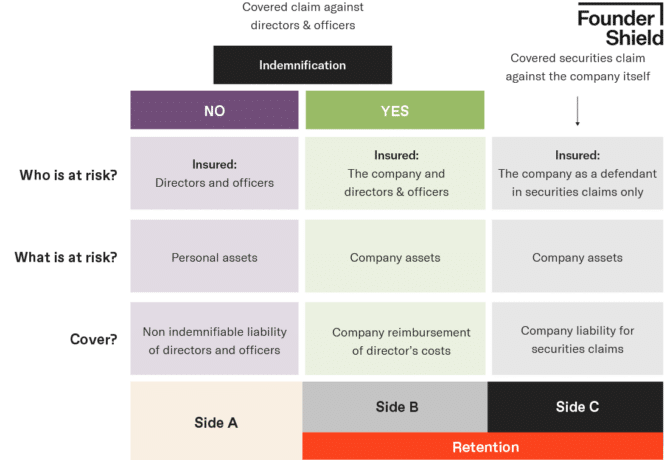 Reasons to Purchase Startup D&O Insurance
Regardless of what you're trying hardest to protect — trade secrets, executives, employees, funds, or even a term sheet — startup D&O insurance can provide coverage for some of the most expensive legal costs. It can support you as you secure funding and scale rapidly. Plus, it's liability insurance that provides entity coverage to boot! 
Startup Risks
Startups are, by nature, much more agile and less risk-averse than other companies. Decision-makers (directors and officers) often make decisions quickly and might need more time to evaluate all potential risks. Thus the potential for a D&O claim (and subsequent financial losses) is naturally high for startups.
Boards of Directors
Suppose you want to secure funding for your business. In many cases, the investor(s) will require you to have D&O insurance, especially if they place someone on the board of directors. This approach ensures that these individuals' assets will be protected against claims while acting as directors and officers.
Investor Allegations
Suppose your investors allege you've made fraudulent claims in your investor pitch deck. A D&O insurance policy would cover the legal fees and defense costs associated with this claim. A good policy will cover costs and other expenses until final adjudication deems the allegations valid.
Investor Expectations
You have a young private company that has raised capital. Although you never anticipate failure, it's certainly a possibility. If something were to happen and you can't achieve the stated return on investment on time (or, even worse, are going under), you could be exposed to an action to reclaim whatever investors can of their investment. A D&O insurance policy would protect the director's and officer's personal assets and the company itself from such claims.
Top Talent
D&O insurance can be a helpful recruiting tool to bring industry leaders and top talent to your team. If knowledgeable and successful executives know they can make decisions on your business's behalf without facing a personal lawsuit, they are much more receptive to joining the team. Plus, this approach bolsters your financial strength and decreases your risk level.
How Much Does D&O Insurance Cost for Startups?
D&O insurance for startups can range from $3,000 to $7,000 in premiums for every $1M in coverage.
This insurance cost is a rough estimate of pricing, and the premium is based on several factors:
Class of business: Some industries have higher risks for D&O insurance claims (i.e., fintech, healthcare, venture capital firms, etc.).

Investor base: Who is on your cap table? Do you have many outside investors or are you mostly self-funded?

Capital raised to date and future funding plans: The more capital raised, the greater the risk. The higher the limit, the higher the premium.

Financial performance: companies that indicate success in the long run will be more favorably underwritten than those who are struggling. D&O underwriters are very interested to know that the projected breakeven will occur during year 2 and profits continue to grow thereafter. If there's a big runway due to a recent raise, underwriters may be more lenient on this point.  (This is a big talking point for us when approaching underwriters for your quotes!  Most venture capitalists don't want to see profitability that quickly, so it's a catch 22 that we must clear when quoting.)

Limit of liability: While a $1M policy may cost between $3,000 and $7,000, a $2M policy may range from $5,000 – $13,000 and so on, as the limits continue to rise. In general, as the limit goes up, the rate per million dollars of coverage will start to go down.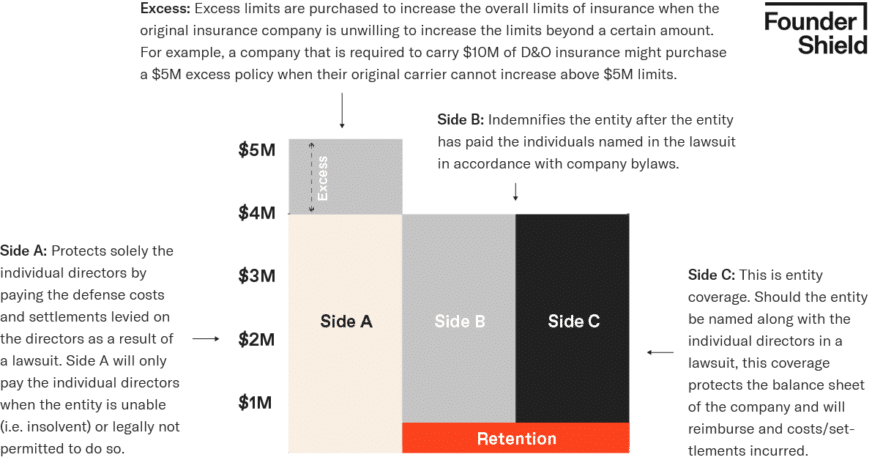 Tips for Purchasing D&O Insurance for Startups
Nearly every insurance company will ask to view your investor pitch deck to ensure they provide you with adequate protection. Additionally, underwriters, specifically, are interested in audited financials — but will work with unaudited statements and even pro forma statements where necessary.
Understanding the details of what coverage your private company needs can be confusing. Founder Shield specializes in knowing the risks VC-backed companies face to make sure you have adequate protection. Feel free to reach out to us, and we'll walk you through the process of finding the right policy for you.
---
What to know more about D&O insurance? Talk to us! Please contact us at info@foundershield.com or create an account here to get started on a quote.