By now, most of us have heard about President Biden's vaccine mandates for the military and some companies. These new happenings wildly rouse radio broadcasters, podcast hosts, and social media influencers. Aside from the opinions about independence and such, what do they honestly mean for the business side of things? Let's review the facts and talk about how these decisions could potentially impact businesses nationwide.
A History of US Vaccine Mandates
Unbeknownst to many Americans, the US has a long history of vaccine mandates. For starters, smallpox was killing one-third of those who contracted the disease in 1777. The outbreak occurred during the Revolutionary War and was a more significant threat to George Washington's army than the British forces. The Continental Army was inoculated, and you know the rest of the story.
Furthermore, throughout World War I and II, soldiers received the smallpox vaccination, among others. Members of the armed forces were given 13 or more vaccinations by 2006. Even now, schools and universities typically require a vaccination record for a student to enroll, and these requirements have occasionally led to EPLI claims.
But these mandates sometimes cause issues. When Massachusetts faced smallpox again in 1902 and prompted a vaccine mandate, Pastor Henning Jacobson refused the vaccine. Not only that, but he also took the legal case to the Supreme Court. So, it's unsurprising that the US is experiencing some fallout from the recent vaccine mandates. 
Understanding Regulatory Guidance 
Still, no matter if you're pro- or anti-vaccine, it helps to understand the governance behind these types of public health issues. Aside from the Biden Administration, let's discuss the leading organizations, which include:
OSHA
The Occupational Safety and Health Administration (OSHA) is the US Department of Labor's regulatory department, inspecting and addressing workplace environments. Employers must comply with OSHA's record-keeping and reporting requirements regarding pandemic-related employment practices to assess potential COVID-related claims. 
EEOC
The US Equal Employment Opportunity Commission (EEOC) is a federal agency administering and enforcing civil rights laws against discrimination in the workplace. The EEOC has routinely guided employers that remove employers with symptoms, helping them align with EEOC guidelines.
CDC
The Center for Disease Control and Prevention (CDC) is America's health protection agency. Throughout the pandemic, it has set the standard for best practices regarding dangerous health threats. Government and company leaders rely on this agency to help them navigate mass health issues, such as the COVID-19 pandemic.
ADA
The Americans with Disability Act (ADA) is a civil rights law prohibiting discrimination based on disability. This 1990 act addresses disabilities in many areas: employment, public accommodations, communications, transportation, and access to state and local government services.
Local and State
Although the judicial review of the Constitution and Supreme Court have the final say in directives, state governors and local officials have broad influence within their jurisdictions. During an emergency (i.e., COVID-19 pandemic), the local government typically offers health-related guidance based on CDC counsel.
Pandemic-Related EPLI Claims in 2020 
Plenty of confusion surfaced when employers first sent employees home to work and then again when they told those same employees to return to work. Sure, these situations arose before vaccine mandates were a thing, but many of the same triggers apply.  
For example, is working from home a mere convenience for an employer or an accommodation for the employee? Consider that sending your team home to work during a national health crisis is often more convenient for an employer. However, it's a change in terms and conditions of employment. But employers don't have to accommodate; they must attempt to accommodate. Unfortunately, this scenario can trigger an EPLI claim. And, as imagined, it did this past year.
Back by Fisher Philips' data and what we've seen float across our desks, below is a clear snapshot of the types of EPL insurance claims we've experienced this year already: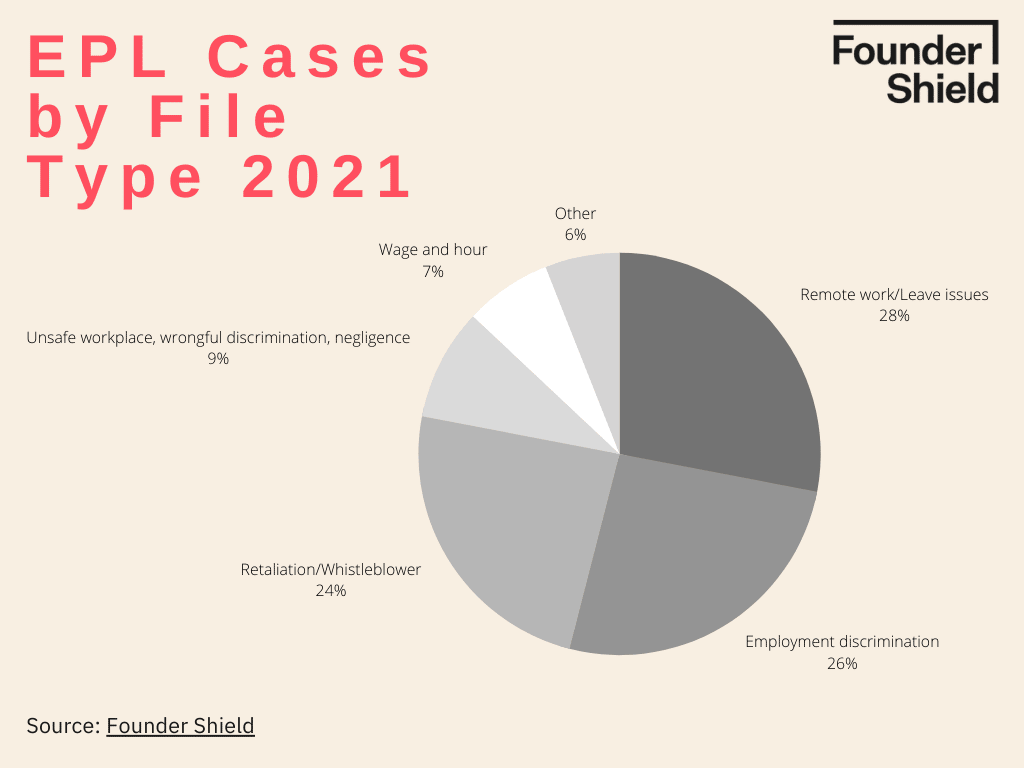 Additionally, employers trying to bring some employees back to the office or job site raises issues. If an employee can perform essential functions from home, many employers send their teams home to work. However, they often revisit the work arrangement after the health threat has passed. This scenario is unfolding currently, only with vaccine mandates in the mix now.
According to the ADA, an employer doesn't have to eliminate essential job functions to accommodate employees. However, employers can consider terminating the employee if they can no longer perform essential job functions remotely but refuse to return to work. EPLI claims have stemmed from similar situations, and these past EPLI claims might affect future vaccine mandate-related claims.  
Biden's New Vaccine Mandates 
Before explaining the details of Biden's new vaccine mandate, let's clear a few things up. First, the federal government doesn't have the authority to require all citizens of a particular state or nation to be vaccinated. Cities and states hold power to regulate public health, so cities and states traditionally impose vaccine mandates. Massachusetts proved that fact a hundred years ago.
However, that's not what the Biden Administration has done precisely. Society often hears the word "mandate" and develops assumptions on available information, often limited. Biden aims to create a patchwork of mandates instead of an overarching mandate, with overlaps occurring at the federal, state, and local levels. 
Coming directly from the White House, here's an overview of the Administration's initiatives:
Requiring all employers with 100+ employees to ensure their workers are vaccinated or tested weekly.

Requiring vaccinations for all federal workers and for millions of contractors that do business with the federal government.

Requiring COVID-⁠19 vaccinations for over 17 million health care workers at Medicare and Medicaid participating hospitals and other health care settings.

Calling on large entertainment venues to require proof of vaccination or testing for entry.

Requiring employers to provide paid time off to get vaccinated.
The EPLI Landscape 
It's an understatement to say that this past year of layoffs, furloughs, and various social movements has been an underwriter's nightmare. So many nuanced claims with so little history to gauge risk level. Unsurprisingly, in the wake of the Black Lives Matter and #MeToo movements, EPLI claims have risen sharply.  
Legal Issues
Even now, employees have begun to address their concern for vaccine mandates in court. For example, six United Airlines Inc. employees in Texas filed suit against United, alleging the company unlawfully denied religious and medical exemptions. According to United, over 97% of its US-based employees are vaccinated, and employees had clear deadlines to request religious and medical exemption.  Nevertheless, United workers accused the company of violating federal laws. And this situation is likely only the beginning of what might be a thorny legal issue.
Georgetown University professor, Lawrence Gostin, predicts the CDC will recommend COVID-19 vaccines to school-age children as a prerequisite to attend school. Universities might follow suit. Some states will comply, and some won't. But the idea of vaccine mandates or other health regulations isn't going away anytime soon, impacting individuals and companies alike. 
The Impact of Claims
As a result, we expect to see a rise in EPLI claims, which will eventually impact premium rates and liability exposures. The following are some claim types continuing to climb in quantity and settlement amounts:
Retaliation claims

Wage and hour litigation

Gender pay gap allegations

Sexual harassment claims

Discrimination cases
Federal employment laws are designed to afford protection to members of "protected classes," usually members of under-represented populations, or classes that are often under-represented in the workforce. It's unsettled whether the need to address at-home childcare, for example, qualify as entitled to protected status under federal laws. 
However, while fewer than 2% of companies in the US have 100 or more employees, Biden's mandate could still impact over 80 million workers. Noncompliance could result in penalties of up to $14,000 per violation. 
How EPL Insurance Can Help
Whether you agree or disagree with various mandates, the good news is that you can protect your company with EPL insurance. 
Lawsuits relating to employment practices are increasingly widespread in the US — especially now. From harassment to discrimination to wage and hour disputes, these claims are not only popular, but they are easy for employees to file. The US government tends to funnel the American workforce toward litigation through various rules and regulations, costing businesses mounds of money. But EPL insurance can help.
For example, if the company management is named in an employment-related claim, the insurer defends and pays the judgment or settlement. Defense fees can add up quickly until the suit is dismissed, even for baseless allegations. Having a customized policy in your corner is the most effective strategy. 
Moreover, many EPLI insurers frequently offer valuable consulting services and advisory opinions free of charge when you purchase an EPL policy. So, when you make the decision to buy EPLI, ask your broker if things like a roadmap of how to implement mask or vaccine requirements keeps you on the right side of the complex employment rules and laws.
Understanding the details of what coverage your company needs can be a confusing process. Founder Shield specializes in knowing the risks your industry faces to make sure you have adequate protection. Feel free to reach out to us, and we'll walk you through the process of finding the right policy for you. 
---
Want to know more about EPL Insurance? Talk to us! Please contact us at info@foundershield.com or create an account here to get started on a quote.