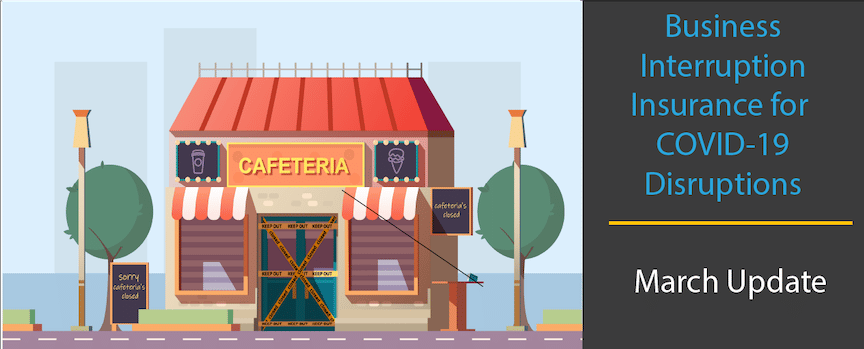 Given all that's happening in the world right now (and as we enter a world of WFH for the foreseeable future), we wanted to continue to expand our library of blog posts that can provide all the guidance we can as it relates to your insurance policies.
When your business insures its "property," many policies include a loss of business income or business interruption ("BI") feature. The standard (in fact 99.9%) BI coverage only applies if your business is unable to operate as a result of some sort of physical damage (think fire or structural damage). If your business is forced to close temporarily after a fire or other building damage, you can claim your loss of net income.
Some property damage policies include a coverage feature ("special coverage") for "civil authority" interruptions. If the government requires you to shut, can you seek insurance coverage for your loss of net income under your property policy? Unfortunately, the answer is probably not.
Traditionally, civil authority coverage is meant to apply when your neighbor's structure suffers physical damage rendering your premises unsafe to occupy. This is the exception to the rule that business interruption only applies to loss of business income after you have sustained physical damage. But, even here, there has to be physical damage – just not to your premises. Same is generally true for policies that include a special coverage for what is sometimes called "suspension of operations" coverage. There are some less common coverages tied to supply chain claims, but those would apply if, for example, a key component is manufactured somewhere that cannot ship product due to a government ordered shutdown.
Note, however, that we said "traditionally." While no insurer is likely to amend their policies to allow for Covid-19 related business interruption coverage, we've seen insurance outcomes mandated by governments and courts under extraordinary circumstances. For example, terrorism coverage (as we now understand it) didn't exist prior to 9/11. The National Flood Insurance Program was created in response to national emergencies. We can't predict with any certainty that the government or courts will step in and retroactively amend private insurance policies.
So, the question is whether to submit a notice of claim for business interruption anyway? If you are a client in the hospitality industry (bars, restaurants, hotels, travel, and related), recent local government announcements mandating no in-restaurant service (in NYC and LA, for example), or CDC announcements mandating no gatherings of more than 50 people (or 10?), this will no doubt significantly impact your business. As a result, we are suggesting that our clients consider notifying insurers of these claims. Will coverage be created for this national emergency by government mandate or judicial fiat? Who can predict? But you can't recover anything if you never submit notice to your insurance carrier. You can get the reporting process started here.
As of writing this post, the NYDFS is requiring that insurance carriers report on the state of business interruption claims and policies. It may well be the case that NY intends to offer guidance on the subject. We will keep everyone updated.
Let us know if we can help or if you want to discuss, And as always, please reach out to our team with any questions.
Stay safe and sane out there.

---
UPDATE 3/19/2020:
The state of New Jersey has introduced legislation that will actually force insurers to cover business interruption claims expressly excluded or uncovered. The New York Department of Financial Services requirement for carriers to provide an explanation of benefits was due yesterday so we'll keep an eye out for any progress in New York. Alaska posted this bulletin as well prohibiting carriers from cancelling policies for nonpayment until June 1st at the earliest, protecting insureds who can't pay their premium during this crisis.
One thing is certain: legislators and regulators are acutely aware of the shortcomings of insurance policies for this novel situation and are working to do something about it.
---
UPDATE 3/22/2020:
We've discovered that on March 18, 2020, the California Department of Insurance issued a Notice requesting all insurance companies provide their policyholders with at least a 60-day grace period to pay their premiums. California Insurance updates related to Coronavirus can be found here.
In New York, the governor announced in a press conference on Friday that there will be a 90-day suspension of mortgage payments and foreclosures for commercial and residential mortgages. There has been no comment about a rent freeze, however, which could certainly help out business owners in the battle for survival, particularly in NYC. We'll keep an eye on the situation.
New York DFS also sent a bulletin out to all licensed producers (us) announcing that it has instructed insurance companies to offer "payment accommodations, such as allowing consumers to defer payments at no cost, extending payment due dates, or waiving late or reinstatement fees," although it has not followed CA and some other states with a hard and fast 60-day rule.
---
UPDATE 3/25/2020:
There are many legal & insurance scholars weighing in on the applicability of business interruption coverage applying to COVID-19 losses and arguing that confirmed cases within one's building may be enough to count as "physical damage." There is commonly a Virus Exclusion on many standard policy forms, but regardless, many expect state and regulatory intervention to force coverage even in spite of that exclusion.
In late February 2020, ISO, an insurance advisory organization that created the "gold standard" of property and liability coverage forms, released 2 new endorsements that would grant coverage for COVID-19 related business interruption losses. It's unlikely that carriers will adopt these endorsements but time will tell.
Many of the carriers we work with (Hartford and CNA, for example), have already implemented the guidelines requested by NYDFS and other state insurance regulators: payment suspensions & postponements and waiver of late fees until at least June 1st and no cancellations for nonpayment of policy premiums. At present, we're seeing carriers acknowledge receipt of claims with softer language like "at the present time it appears coverage may be excluded by the policy." It seems everyone knows that some regulatory intervention may be coming…
EPL: CA has suspended the 60-day notice requirement imposed by the WARN Act. As many companies begin to conduct larger and larger layoffs, we're putting more and more carriers on notice about potential claims related to Employment Practices lawsuits (wrongful terminations). If you have to go through the awful process of downsizing the team, talk to us and we'll make sure you go through the right process on the insurance side.
---
UPDATE 3/27/2020:
Washington state has now joined the ranks of California, New York, and many others mandating policy premium payment and cancellation forgiveness until May 9th. Quick tip: to find up-to-date info from your state department of insurance related to COVID-19 issues, simply google "[state] DOI COVID"…almost every state has set up a page where they're aggregating all bulletins and guidance documents related to compliance and insurance during this time.
---
UPDATE 3/29/2020:
We initially wrote about how NYDFS issued a bulletin ordering insurance carriers to provide guidance to their customers on the applicability of business interruption and civil authority insuring clauses under current circumstances. CNA posted the company's statement here. As expected, it highlights the need for "physical damage" to trigger these clauses, but encourages insureds to submit and log potential claims with the company.
Travelers has joined the ranks of Hartford, CNA, and others in providing billing relief until May 15th.
---
UPDATE 3/30/2020:
Law firm Gfeller Laurie has released a memo this morning indicating that at least 4 lawsuits have commenced against insurers arguing the applicability of business interruption and civil authority coverage under standard property policies. These cases are in very early stages and only time will tell how courts weigh in.
The memo also notes that Ohio and Massachusetts have joined New Jersey and "proposed Bills that would retroactively expand business interruption insurance policies to cover insureds' losses attributable to the outbreak of COVID-19, regardless of the policies' express terms." None of these bills have made it through a vote at this time, however.
---
UPDATE 4/1/2020
Law firm Sidley has created a compendium of state department of insurance responses related to business interruption, health insurance, and more. The post confirms that almost every state has implemented premium payment relief measures for some period of time through May or June. They are updating frequently and this is a great resource to stay informed on your state's responses to the pandemic.
---
UPDATE 4/6/2020
New York's Governor Cuomo signed and executive order late last week extending the premium payment relief guidelines to 3rd party premium financing companies. These companies have been instructed to hold back on sending nonpayment/cancellation notices and to waive late fees for an extended 60 days. Other states that have followed suit include:
Louisiana
Mississippi
North Carolina
Washington
Oregon
Note that the New York bulletin directs the insured to provide "a statement that you swear or affirm in writing under penalty of perjury that you are experiencing financial hardship as a result of the COVID-19 pandemic, which the insurer or premium finance agency, as applicable, shall accept as satisfactory proof.  Such statement is not required to be notarized." We'll keep an eye on this development as well.
---