---
Update: We've released a new whitepaper examining the Sharing Economy industry. We dive into the insurance landscape, legal climate and how to approach risk management for companies in this sector. You can download the report here!
---
Fueled by advances in communication technology, the gig economy is changing the way we work, play and live. Businesses have unprecedented access to highly skilled workers. Workers meanwhile can turn about any skill into an income stream.
While almost a quarter of Millennials have worked as an independent contractor or freelancer, the gig economy isn't only for the young. One Prudential study found, 15% of Generation X workers have taken gig work and 9% of Baby Boomers use gigs to bridge to retirement.
Their demographics look like this: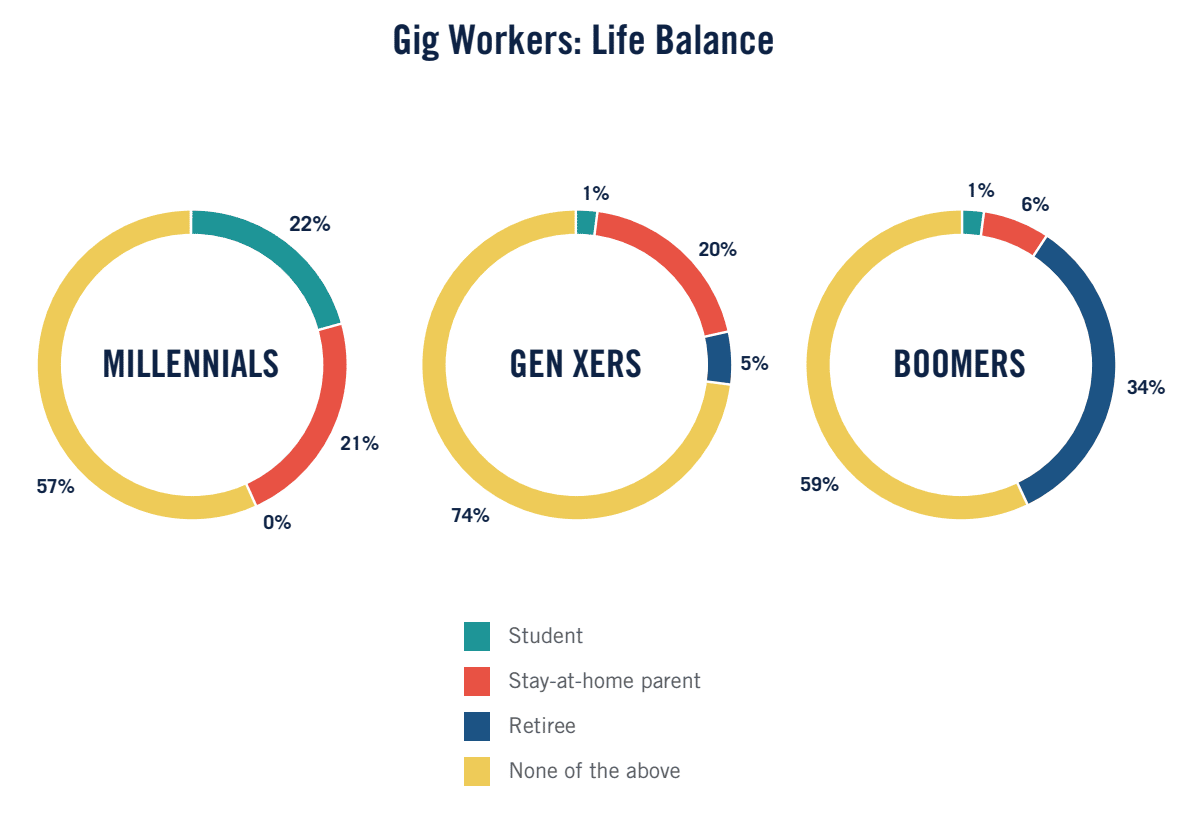 Notwithstanding who participates, the gig economy has three major underpinnings:
Collaborative endeavors: Technology-enabled group activities such as circulating petitions, gathering information after a natural disaster or fundraising through Crowdfunding.
On-demand services: These services may include anything from dog walking to meal delivery, but the most common is ride-hailing.
Sharing platforms: Platforms that serve to connect people seeking to share expertise or property. The most common example is home sharing.
Each of these underpinnings has implications for the insurance industry, as the gig economy blurs the lines between personal and business activities. Even as the implications unfold, progressive insurers offer ways to protect emerging entrepreneurs, workers and businesses.
One of the most illustrative examples of the gig economy giving rise to insurance innovation is found in home sharing.
What is Home Sharing?
Home sharing refers to the practice of renting a home, or part of a home, to a guest in exchange for money. The homeowner is typically referred to as a host and the sharing is orchestrated through an online platform.
Home sharing itself isn't new – its roots go back to boarding houses and traditional bed and breakfast lodging. But the way the business is conducted is new. Sharing platforms have improved access, making it easy for hosts to find guests and for guests to find accommodation just about anywhere in the world.
Since Airbnb burst onto the scene in 2008 it has remained the most popular site for home sharing users.  VRBO has been around since 1995 and HomeAway boasts 2,000,000 vacation rental listings.
While those remain the major players in the industry, there are home sharing platforms that specialize in just about anything. Couchsurfing appeals to budget-conscious travelers. CultureGoGo connects travelers interested in cultural exchange and Wwoof serves as a nonprofit connecting those interested in organic farming with working farms.
While each of these platforms may have a niche, the business model is the same – connecting hosts and guests. Their appeal is evidenced by this Pew Research study:
1 in 10 American adults (11%) have booked an overnight stay through a home sharing site.
34% of Americans are familiar with these services.
The same study also highlights how users view the platforms:

What are the Risks of Home Sharing?
The home sharing business model works well but has inherent risks. All parties involved – hosts, guests and platforms have exposure, and need insurance.
For example, a traveler booking on a platform assumes the risk that their lodging isn't what they bargained for. The traveler could also be liable for their own actions for example negligence in leaving on a lit stove or flooding a bathroom. For hosts, there is the potential for property damage and liability claims. Platforms are susceptible to damage to their reputation arising from claims or negative press.
To illustrate the risk, let's say you participate in a home share as a host, renting out your beachside cottage for a week during Summer. The family you thought you were renting to turned out to be a large group of young adults who throw a party and unleash significant property damage on your home.
The platform faces potential problems in this scenario, as well. Let's say the guests destroyed expensive art, and high-end furnishings and fixtures. The host claims the platform was negligent by not having adequate controls in place to curb this type of misrepresentation at booking.
Even when bookings go well, platforms may face legal challenges. Consider this lawsuit against Airbnb filed by one of the nation's largest property management firms. The property company, known as Aimco, claims Airbnb was negligent in not halting bookings at a Miami condominium where subleasing is banned.
Airbnb was successful in getting a similar suit in California thrown out under the 1996 Communications Decency Act. The defense being the platform is not responsible for the content, but only for providing the framework.
It's anyone's guess if the same defense will work for Airbnb in the Miami suit. Either way, forward-looking platforms must invest in proper insurance protection for themselves and their users.
What is Host Insurance?
The aim of host insurance is to protect homeowners renting their house for commercial uses. The need for special host insurance arises because the moment a home – or a portion of a home – is listed on a platform, a typical homeowners policy excludes coverage.
Host insurance is designed to fill that gap. It protects homeowners from bodily injury and property damage liability claims.  The most innovative host insurance policies also can provide protection from credit identity theft on the platform.
Some policies have further applications for the platform: They serve as an effective marketing tool to engage users who have stayed out of the home share game because of potential liabilities.
For example, Airbnb offers two types of host insurance:
"Host Protection insurance" includes $1,000,000 in liability coverage for claims such as bodily injury. The coverage is primary to the host's homeowner or renter insurance.
"Host Guarantee" is free insurance for the host's physical property up to $1,000,000.
Insurance Innovation for Home Sharing Platforms
In response to the growing popularity of home sharing, the insurance market created new products and policies. These include inexpensive supplemental endorsements hosts can purchase, as well as comprehensive insurance policies that take the place of a traditional homeowner's policy. Still, the most complete host insurance packages protect hosts and benefits the platforms.
The package coverage is twofold:
Coverage is provided to hosts through the platform, allowing them to secure affordable coverage at booking. Hosts are not burdened with managing separate policies and costs. The protection is built into the booking fee.
Platforms are billed in arrears, based on the days/nights stayed boosting cash flow. This allows platforms to scale quickly. Further, platforms can turn a profit by accessing wholesale insurance rates and baking in a markup into platform fees creating another revenue stream.
Furthermore, there are additional benefits to setting up this type of insurance program.  Your customers get a better experience by feeling protected when using the company's service, leading to cheaper customer acquisition and stronger adoption and increased brand loyalty
Founder Shield Host Insurance Package
Property Coverage
Accidental damage to parts of the home such as Tables, Couches, Handrails, Decks, Doors, etc.  This is offered up to an agreed amount per incident and can either be capped per home annually or left uncapped.
Liability Coverage
Protection to the homeowner if she/he is sued by a traveler who suffered a bodily injury during the stay (i.e. Falls down the stairs, a lamp falls and hits individual on the head, etc.)
Credit Card Fraud
Protection against identity theft.  So important in the vacation rental space as someone who provides phony information likely has further malintent related to the rental home.
Coverage Territory
Domestic or Worldwide!  Don't worry about your plans for expansion, we're already going to have you covered.
Competitive Pricing
On average our pricing has proven 30% more competitive than other options in the market.
---
Want to know more? Talk to us!  You can contact us at info@foundershield.com or create an account here to get started on a quote. Stay tuned for more blogs on Host Insurance.