Insurance Guide for Biotechnology Companies
Since its unofficial inception in 1973 with Cohen and Boyer's DNA cloning experiments, biotechnology has been spearheading medical and agricultural markets alike. Although many perceive biotech revolutions as controversial, the powerful explosion isn't slowing down anytime soon. 
As this reasonably new sector continues its instrumental reach, it's vital to understand how insurance for biotech companies serves to safeguard the future of the industry. 
About the Biotech Industry
Plenty of people argue that biotechnology isn't anything novel. After all, farmers have been manipulating livestock and crops for thousands of years. Whether optimizing genes or boosting yields, dabbling in this science is an old endeavor.
It's safe to say, though, biotechnology companies work to streamline the process, tightening methods and offerings loads more convenience. 
As mentioned, biotechnology unofficially launched in the mid-1970s with several daring DNA experiments. Also, 1994 introduced the first genetically modified corn, and no one forgot the cloning of Dolly the sheep in 1996. 
Growth and investment in the industry show no signs of slowing down and 2018 was a bumper year for Biotech IPOs: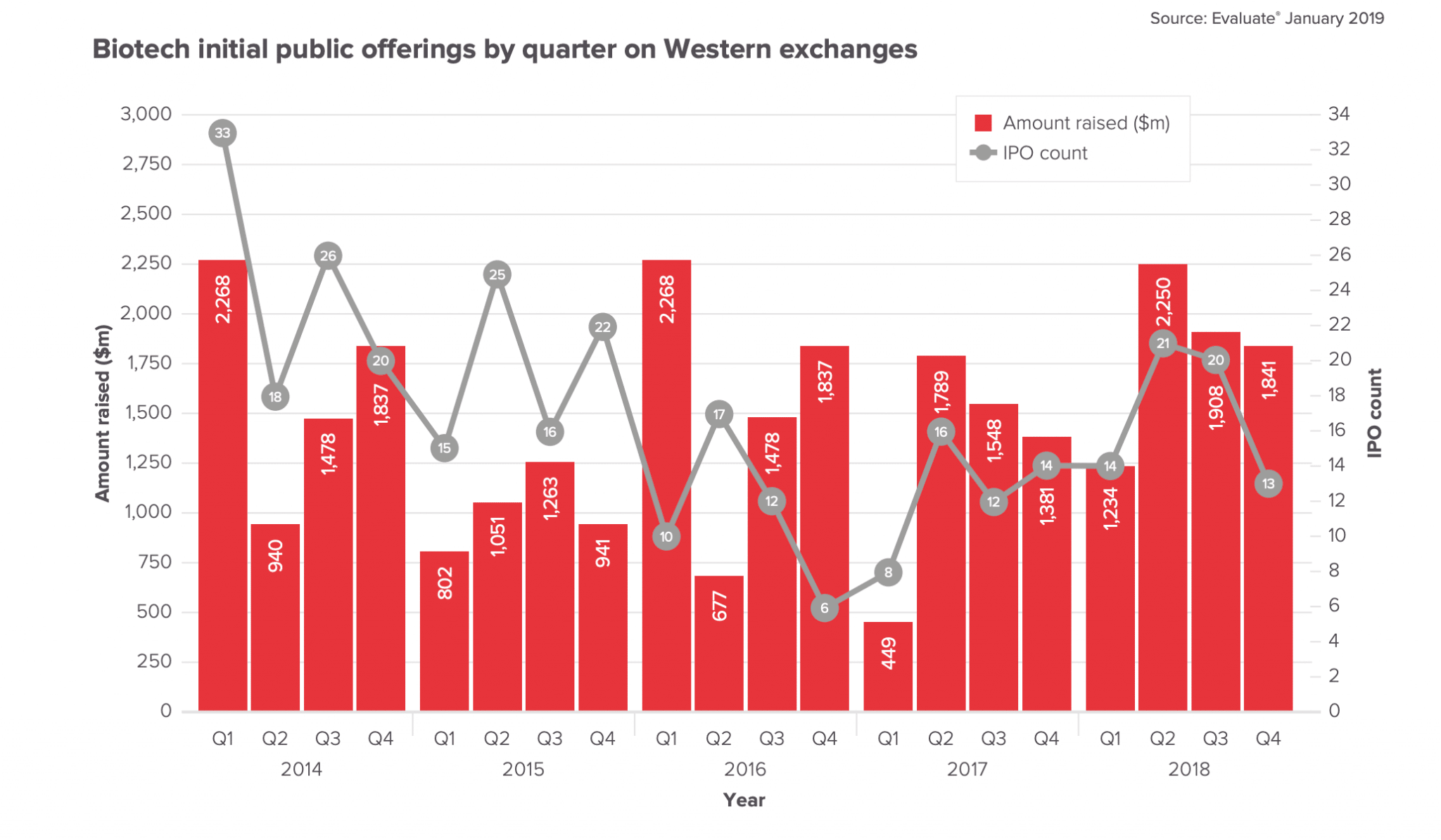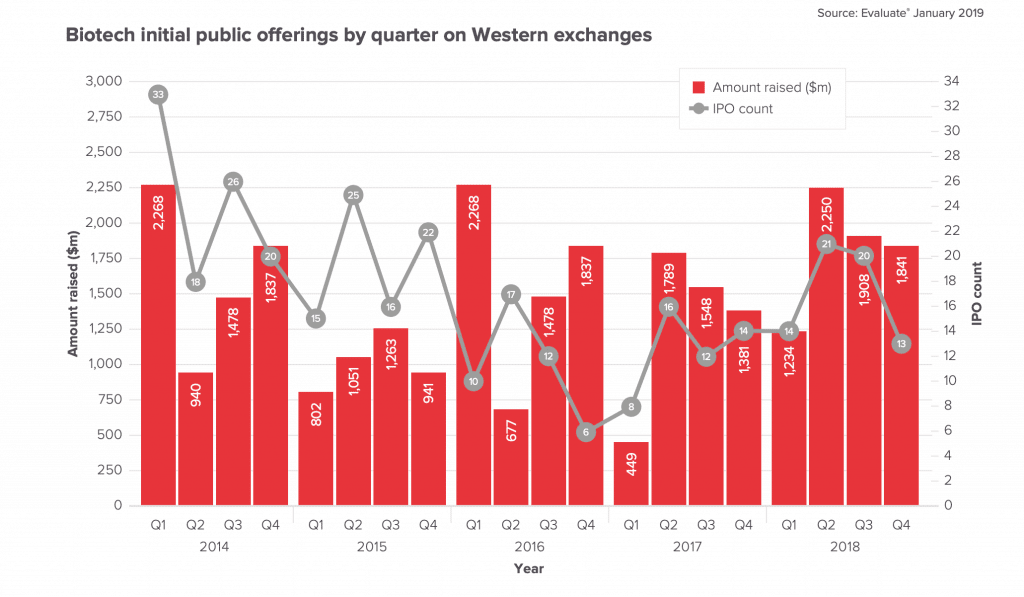 Similar trends are visible in the annual revenue generated by biotech companies in the US and Europe: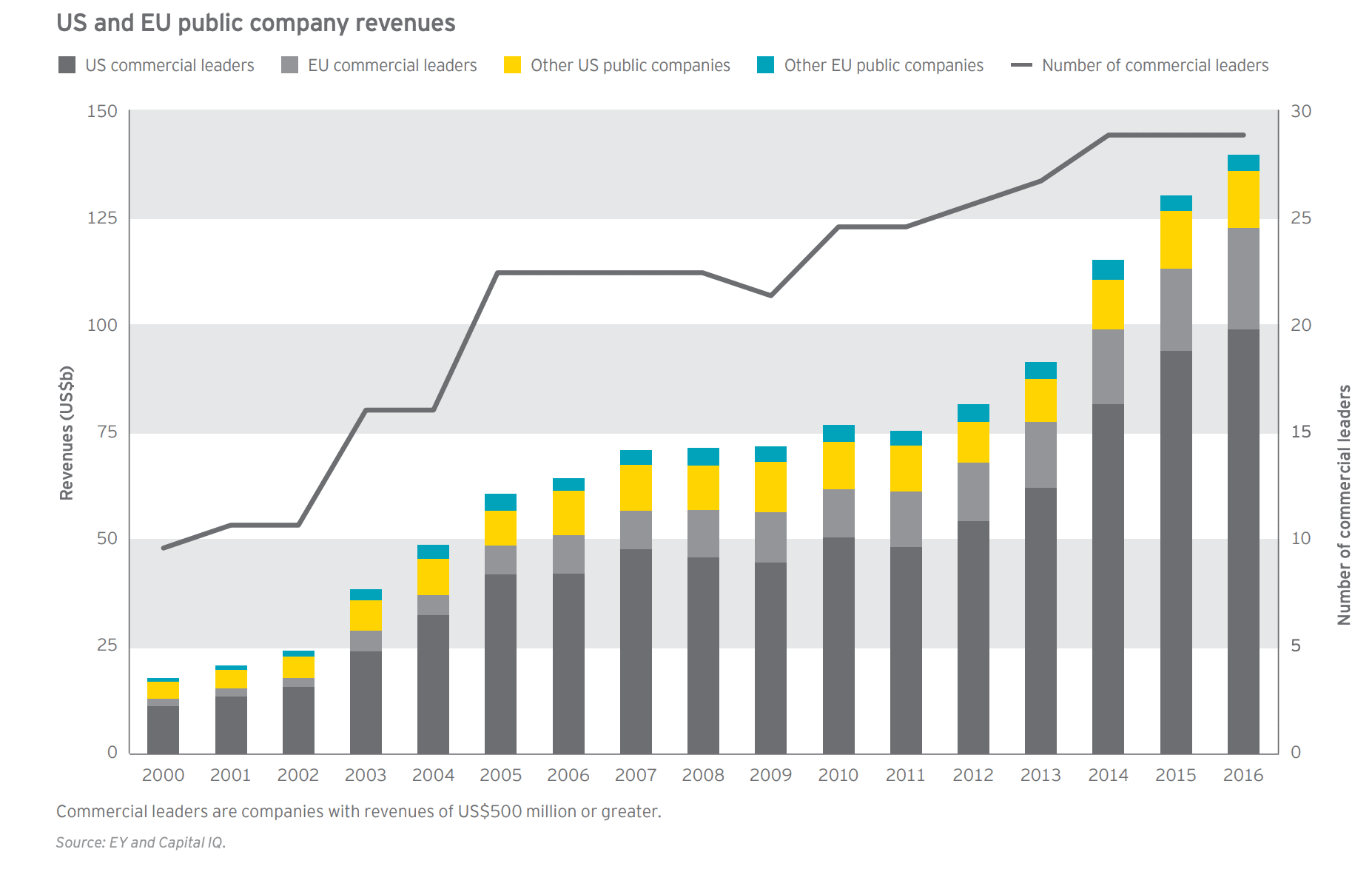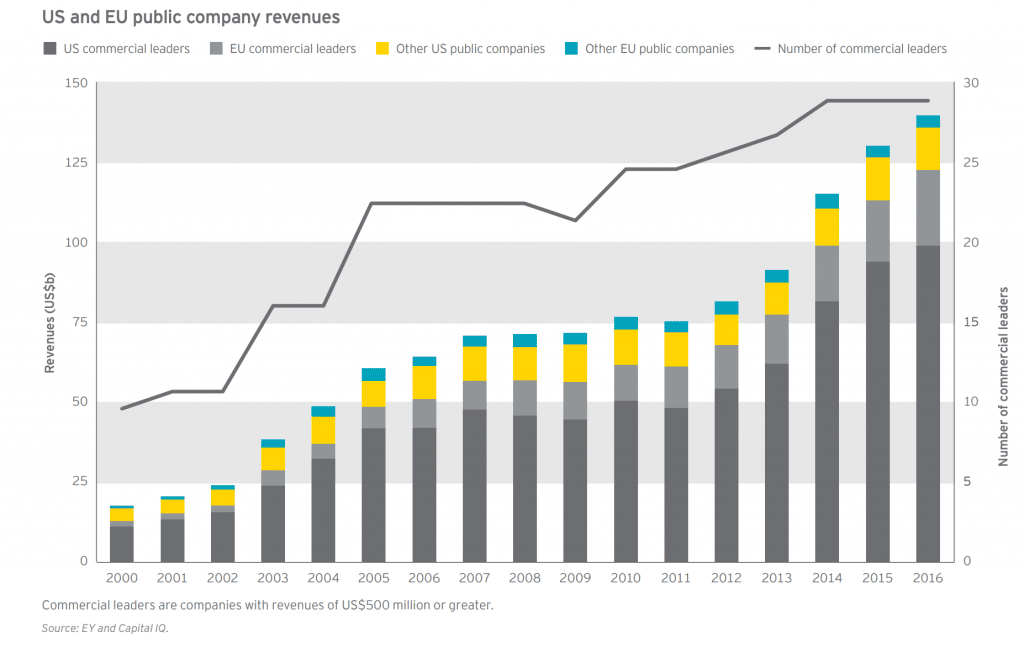 Ag-biotech
Agricultural biotechnology has taken significant leaps and bounds since the Dolly days. Many transgenic crops, such as soybeans and wheat, are the norm now. Furthermore, up to 90% of corn, soybeans, and cotton grown in the US are bioengineered. Even though genetically modified organisms (GMOs) experience intense flack, millions of acres of GMOs are planted each year.
Predictably, the primary emphasis of biotechnology in agriculture lies in crop enhancement. Nevertheless, biotech-augmented livestock stands as a significant contender, as the novelty of animal cloning has waned. Moreover, proponents argue that cultured meat or lab-grown meat represents the pinnacle of cellular agriculture. In this evolving landscape, biotech insurance plays a pivotal role in safeguarding these advancements.
Significant players in ag-biotech include:
Bayer (formerly Monsanto)
Syngenta AG
Corteva Agriscience (formerly Pioneer Hi-Bred)
Intrexon Corporation
BASF
Beyond Meat
Although these national operations are blazing trails concerning crop improvement, many US-based organizations are taking a more focused approach. ArborGen in South Carolina, for one, studies the genetics of trees with hopes of restoring endangered species. Arcadia Biosciences in California works on healthful food composition. 
Biopharma
While the influence of ag-biotech had increased at a steady rate, biopharma introduced an advanced approach to drug development that catapulted a startup boom. Beginning with Cetus, this venture-backed startup revolution was borne mostly out of Silicon Valley. It eventually spread to other US hubs such as Seattle, San Diego, Boston, and Philadelphia. 
As envisioned, the foremost objective was to accelerate the development of novel drugs within the biotech pipeline. Regrettably, the pipeline biotech journey for drug discovery proves to be unexpectedly sluggish. Commencing with fundamental gene research and culminating in a market release, this intricate process encompasses hundreds of intermediary steps.
Nevertheless, biotech companies have devoured all stages of development. Some of the most influential biopharma players include:
Novartis 
Pfitzer Inc
Merck & Co Inc
Johnson & Johnson
Eli Lilly & Co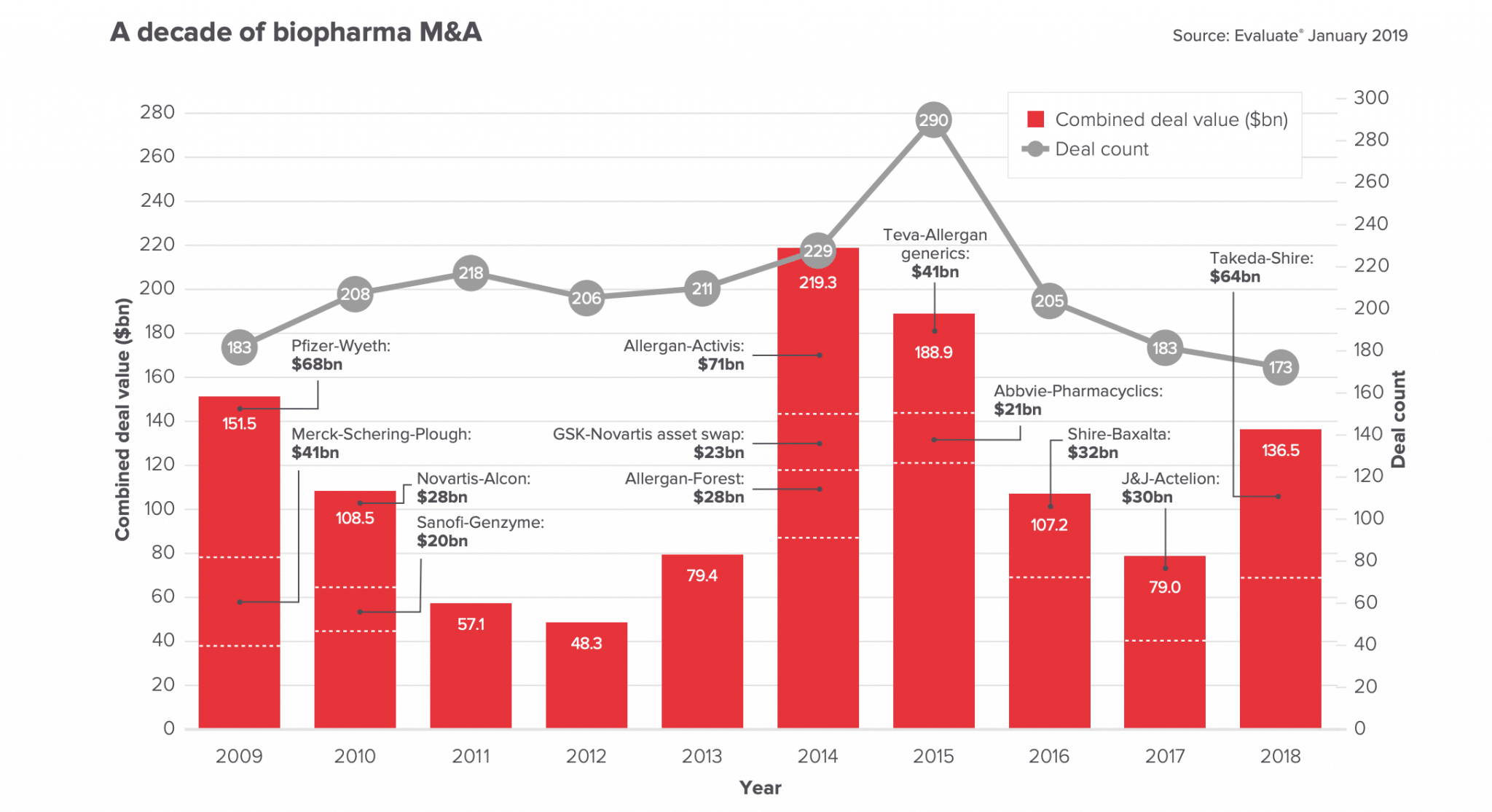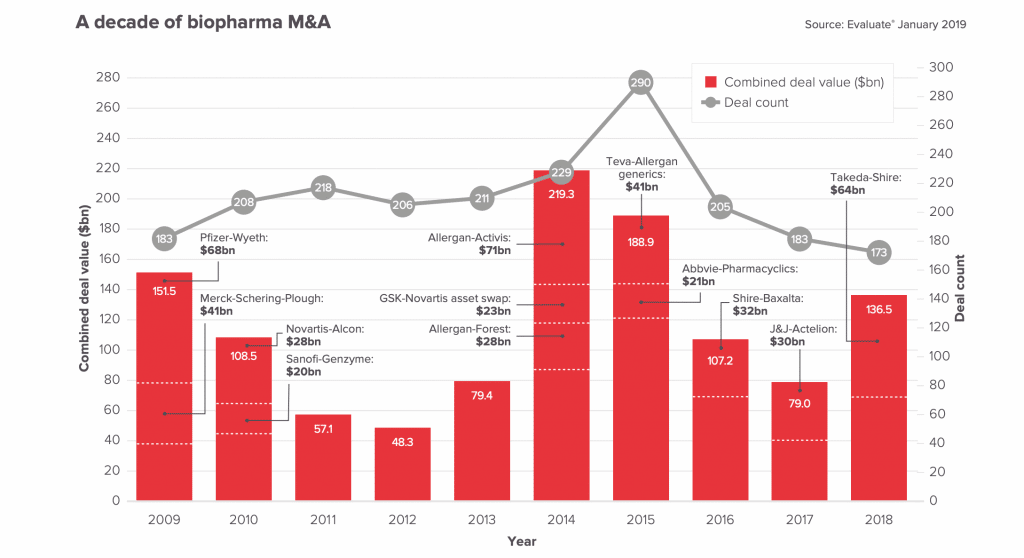 Other smaller companies hone in on a portion of the process. Abbott Diagnostics, for example, attempts to develop new clinical diagnostics by examining disease-related genes. Thermo-Fisher, Promega, and a slew of others provide lab equipment and tools required for drug development. 
Main Risks for Biotech
Delving into a brief history of biotech helps to wrap your mind around the risks amidst this industry—starting with the primary stages of any biopharma-type company.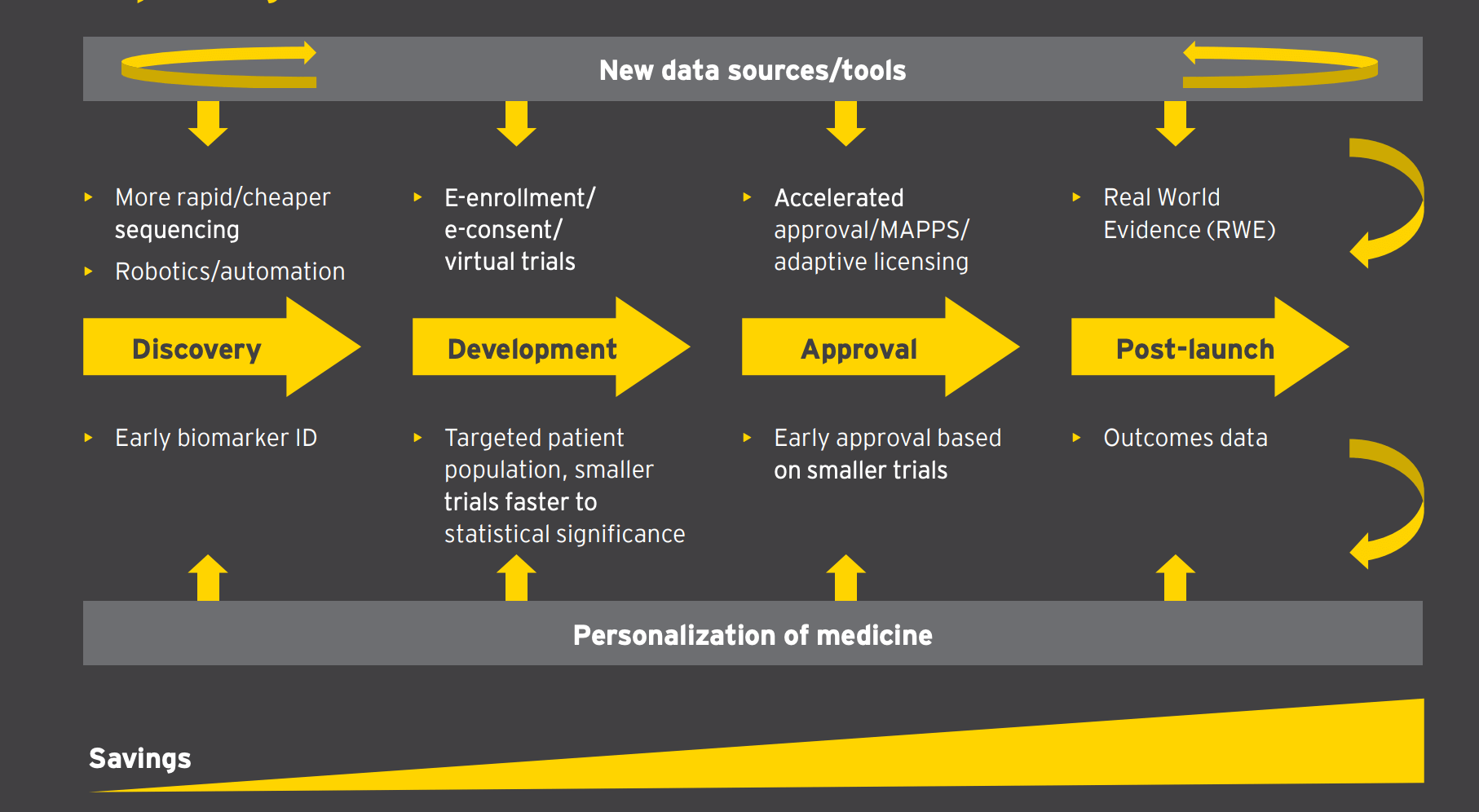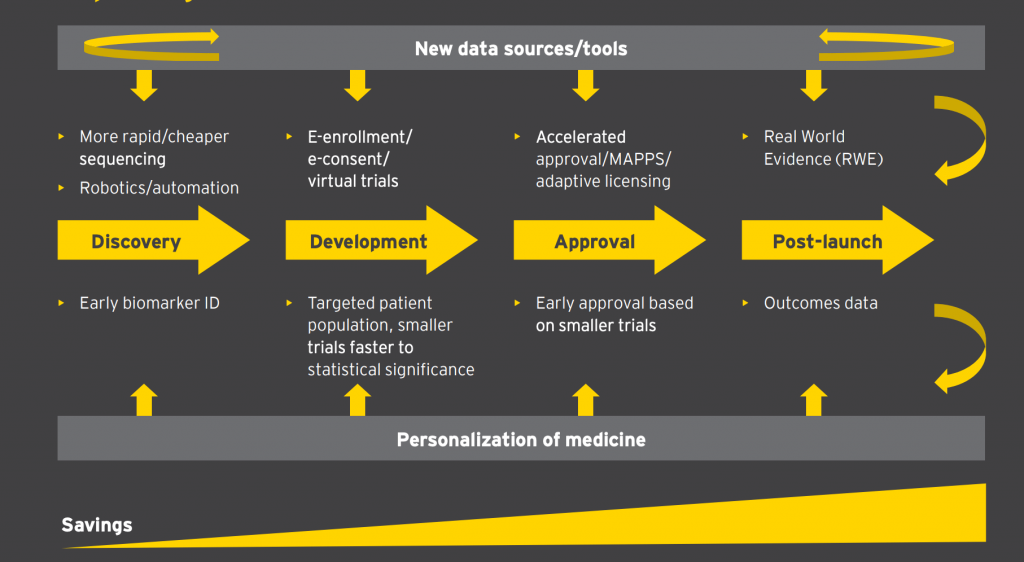 Research and Development 
Artificial intelligence and advanced analytics now empower R&D. Despite decades of improved biotechnological tools, however, rewriting the blueprints of life is never without risk. In short, this stage can present various risks because of the fragile elements required.
Some of the processes involve DNA sequencing, cell and tissue culture and engineering, subcellular organisms, proteins and molecules, and more. 
Imagine storing invaluable tissue cultures in a facility only to have them spoil during a power outage, for example. After years of gruelling R&D, damaged materials could leave you at ground zero.
Human error also contributes to R&D risk, as well. Misplaced items, ill-followed procedures, or even everyday accidents can cause damage. Pointing a finger toward DIY or rogue scientists, of course, many people fear the morph of sophisticated biotechnology into weaponized research. R&D runs the gamut in terms of risk.
Clinical Trials 
Outside of the lab, biotech products must size up against real-life clinical trials. As imagined, the outcomes don't always go as planned. However, filtering adverse results is part of what this stage embodies. 
Plenty of unintended consequences, such as mutations or troubling results, have shut down product development. Social implications and ethics often enter stage left during clinical trials, too. 
Product Launch
Consider a handful of participants experiencing severe issues with a biotech trial drug. Naturally, the FDA will place a clinical hold on your trial, halting expected progress. 
Aside from the marketing aspects of differentiating your drug, manufacturing carries the brunt of all risk.
Drug launches are frequently the most exciting stage and foundational to pharmaceutical companies. Though a product launch isn't without its own set of risks. Nearly half of product launches severely underperform, after all. 
For example, a fire at a suppliers' plant could stop production for weeks at a time. As your company hemorrhages money, investors and the public might feel uncomfortable with the product altogether. 
Malfunctions are another common barrier to ensuring a successful product launch. 
Why Is Insurance for Biotech Companies Important? 
Often, supporting steps forward means covering the path you've already tread. The following are a few reasons why it's essential to purchase insurance for biotech companies.
Protection of Property 
Though many biotech startups focus on protecting their proprietary technology via patents, it's critical to consider physical property as well. Facilities, lab equipment, manufacturing tools, and dozens of more items are worth oodles of money to a biotech operation. 
Insurance for biotech companies often covers the replacement cost of such valuable assets. Furthermore, property risks increase as your company experiences growth, too. The bigger you are, the harder you fall—therefore, a well-placed safety net supports momentum.  
Securing Continued Funding 
Attracting investors is a valid concern for plenty of biotech startups. Also, convincing investors to continue their funding is another common to-do list task. As your biotech company grows and requires more funding, it's vital to ensure smooth and legal daily operations contributing to that growth.
Moreover, insurance for biotech companies helps you to effectively deal with the FDA and other regulatory bodies, as well. When you "color inside the lines," your product launches will likely experience a higher success rate, sustaining company growth.
Sustained Growth
Nothing screams success like skyrocketing product sales after launch. To sustain your startup's development, however, it's critical to succor your upward movement. For many, maintaining momentum means to avoid any setbacks, such as the loss of data.
 Also, the availability of your product to the public increases your risk significantly. As imagined, this kind of risk becomes more relevant as the company grows.
What Insurance Policies Do Biotech Companies Need?
| | | |
| --- | --- | --- |
|   | What it covers | Examples of why they need it |
| D&O Insurance | An individual executive named in a claim. | Especially relevant as these companies require much funding, along with the fact that biotech companies have to deal with the FDA and other regulatory bodies. |
| General Liability | Fundamental risks that come with running a business | Becomes relevant as the company grows. It starts with Clinical Trials and progresses as the company's product is available to the public. |
| Property Insurance | Company property. | If operating a laboratory, the Property exposure multiplies as the value of the lab equipment is very high. |
| Cyber Liability | Electronic data | Some companies may require a manuscripted Cyber policy that takes into account the recreation of data (it's tough to quantify "business interruption" as these companies are often not making money yet, but the loss of their data can be a considerable setback). |
Understanding what coverages your biotech company needs can be a painstaking process. Founder Shield specializes in knowing the risks your biotech operation faces to make sure you have adequate protection. Feel free to reach out to us, and we'll walk you through the process of finding the right policy for you. 
---
Want to know more about insurance for biotech companies? Talk to us! You can contact us at ​info@foundershield.com​ or create an account ​here​ to get started on a quote.