Tech Release: Collaborate, Smart Recommendations, & More!
Release Summary TL;DR
Insurance applications are often too long and complicated — even with technology. Here's what we did to make ours more streamlined and client-focused:
Collaboration: Invite a colleague or vendor to help you complete app questions.
Simplified Language: Make more sense of app questions sans the antiquated terms.
Reduced Minutes-to-Completion: Get back to your life with auto-populated answers.
Custom Coverage Recommendations: Use our coverage recommendations as a springboard.
Check out the GIFs below to see how these new features work!
---
If the past two years have taught us anything, it's to keep moving forward. Keep perfecting your skill because the world needs what you have to offer. Always keep trying. As Winston Churchill said, "Never give in. Never. Never. Never." Here at Founder Shield, we subscribe to this mindset daily, and our clients 100% benefit from it.
Amid a whirlwind global pandemic and rattling economic state, our tech team remained focused on the mission. We've harnessed the power of technology, making the insurance buying experience as streamlined and intuitive as possible. We expanded our tech team and developed individuals' skills and resources — but that's just for starters. Here's what we've been up to and what it means for our clients.
Getting Great Quotes is Easier than Ever
Nobody likes long, muddy insurance applications. Still, the reality is that most of us have been there, done that, with unending application questions that either don't make sense or have nothing to do with the actual risk. So, here's what we did about it to make the application experience more client-focused:
We added the option to invite a collaborator; no more tackling the task alone.
Make speedy sense of app questions without the antiquated terms bogging you down.
Our new design auto-populates answers, carving away the minutes-to-completion time.
Submit applications whenever you want, using our coverage recommendations as a springboard.
Collaboration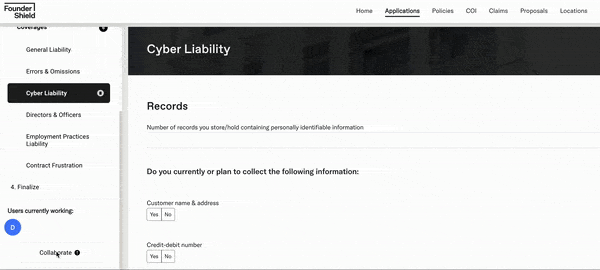 Do you need a colleague or vendor to help you answer questions on your insurance application? Thanks to your feedback, we launched a new collaboration feature in our client portal.
When filling out an application, you can invite multiple collaborators to help you complete a coverage and view which collaborators are editing questions. The collaborator will only be allowed access to the coverage(s) you selected, and you'll be notified when they finish. If you both need to work on the same coverage simultaneously, you can now.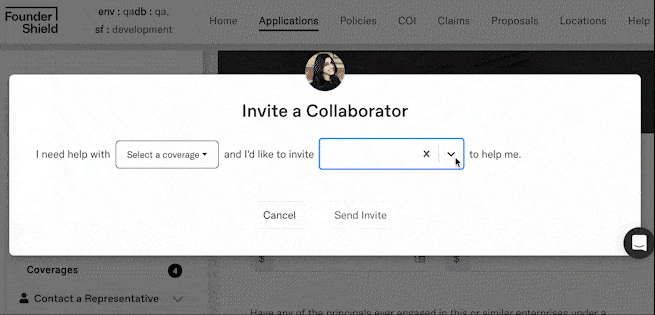 To begin, sign into the portal and start an application; a collaborate pop-up modal will be at the end of each coverage, prompting you to invite a collaborator. There's also a Collaboration button in the left navigation menu. Happy collaborating!
Customized Coverage Recommendations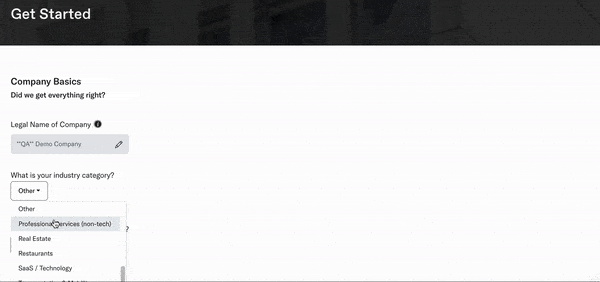 In a world flooded with too many options, we thought our clients would enjoy a more thoughtful coverage selection experience. We first ask for the client's industry and do the rest by recommending coverages we know they'll need. The client can also add or remove coverages — but this approach gets them started, and for most, it's all they genuinely need.
Where did this idea come from? Well, we know one thing about our clients; they hustle and want to answer as few questions as possible. Fortunately, we're a "technology-meets-people" company, and we can connect many services to recommend and fill out several fields for our clients.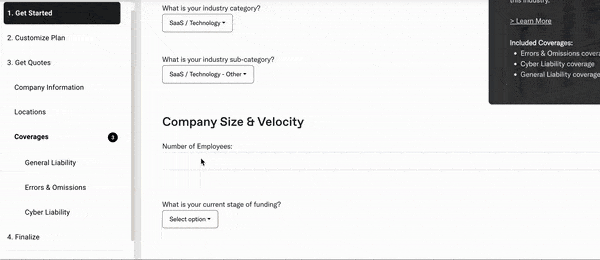 Keep in mind that the work is ongoing, an evolving conversation with our clients about what coverages they need based on their industries. We also do deep research on understanding the industries themselves and any new developments. This approach helps us confidently recommend appropriate coverages.
This intuitive feature is only the beginning. However, it aligns with the larger initiative of simplifying the experience and doing much heavy lifting for our clients while maximizing quotes from the hundreds of insurance carriers we work with.
Simplified Language
It's no secret that clients want to answer as few questions as possible when applying for insurance. There are actually two factors to consider when filling out an application: 1.) the number of questions to answer; 2.) how well the question reads.
There's always a better way to phrase a question. We firmly believe that making a question easier to read also means having fewer questions; it makes the process faster and more enjoyable. For these reasons, we review and rewrite our library of 1500+ questions a few times a year.
Reduced Minutes-to-Completion
Stephen King said, "To write is human, to edit is divine." During our editing process, we focused on reducing the time necessary to complete an application. Using antiquated questions from scanned documents, we updated and made them relevant for our clients.
For example, we read the questions not as tenured insurance professionals but as clients trying to get back to their lives. Keep. It. Simple.
This process of improvement is both an art and a science. The balancing act becomes a matter of removing just enough to communicate effectively. We also found some clever ways to add back details in an interactive way so that the user doesn't feel overwhelmed by additional information but still had access to it via the tooltip.
What's Next?
For the rest of 2023, we'll continue on our mission to create a seamless and intuitive digital platform that maximizes coverage options and insurance carriers' reach for our clients with minimal effort. We'll remain agile and dynamic, ready to take on the challenges of the ever-expanding innovation economy as our clients tackle new challenges in novel ways that will reshape the way we live and work for the coming decades.
Our COO, Carl Niedbala, summarizes our overarching efforts, "We want the maximum amount of quote reach based on who you (the clients) are, and we will accomplish that with the minimum amount of questions."
Thank you for all of your support and feedback as we push forward!