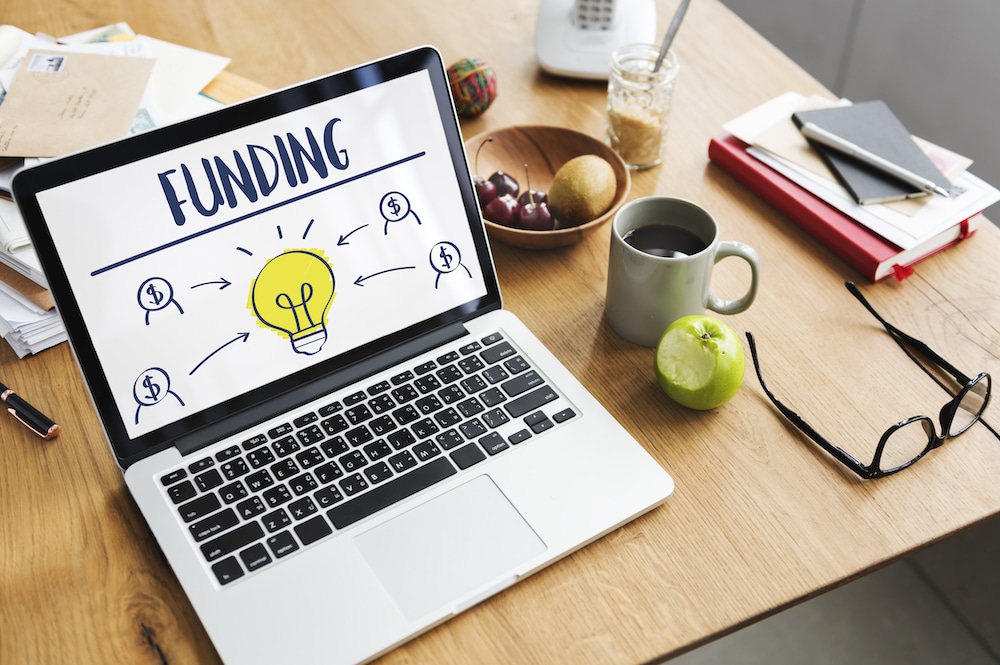 Top 4 Grant Resources for Tech Startups
Jonathan Selby
General Manager
---
Federal and state agencies, as well as private companies, all offer plenty of small business grants. With this money, fast-growing companies can ramp up their business plans, upgrade facilities, hire new employees, and many more exciting investments. However, finding the right program to fit your business venture can seem overwhelming. Let's look at the funding challenge and several grant resources available for tech startups. 
Understanding the Sourcing Challenge
Tech startups tend to feel the pressure to jump on the bandwagon because, once you've been awarded one, you are more likely to receive others. Yet, you are fighting against the stats: On average, around 2,700 grant proposals are submitted daily, but less than 200 will get funding. 
At Founder Shield—built by startup veterans—we understand the grant-finding hustle. It's time-consuming to do research and apply for funding. Even though grants are often perceived as free money, they come with a plethora of restrictions and conditions. 
It would be best if you were very specific about how you will use the money, and once you get it, you have to stick to that original plan. Also, as you scale faster and expand your team, it's essential to understand what coverage your company needs and have startup insurance to protect your growth. 
Before we get to that part of the puzzle, though, here's a list of grants and resources we've collated to help you get started. 
Federal Grants for Tech Startups
Federal grants are issued by the US government and are the holy grail of financial assistance. Have you been scanning the web looking for an overview of all the federal grant programs? The go-to source is the Catalog of Federal Domestic Assistance (CFDA). But here are two resources to narrow it down just a pinch:  
America's Seed Fund 
This consists of the Small Business Innovation Research (SBIR) and Small Business Technology Transfer (STTR) programs. They give grants to a diverse portfolio of disruptive tech startups and small businesses to ignite technological innovation and meet federal research and development needs. Eleven federal agencies participate in these programs, providing $4 billion a year of debt- and equity-free funding.
Grant Size: U

p to $2 million in seed funding 

Grant Type: G

overnment – America's Seed Fund

Qualification: N

early all technology areas (artificial intelligence, energy, medical devices, robotics, semiconductors, etc.). Must be US-owned, US-based, < 500 employees. 

How to Apply: Su

bmit a written project pitch explaining the innovation. If approved, you'll be invited to submit a

full proposal

.

Competition: Extremely high
---
Pro Tip ↓
Competition is so high for STTR and SBIR programs that TechCrunch wrote a piece about how to get your foot in the door. Check it out! 
---
Grants.gov
Despite the busy website, Grants.gov is a valuable resource and comprehensive database. It shows all the government small-business grants administered by various federal agencies, such as the US Agency for International Development (USAID) or the US Department of Commerce (DOC). You can see an overview of the grants available at the Grants Learning Center. 
Make sure you are eligible before applying and find a grant that aligns with your work. There's also a community blog with plenty of information about how to land your first grant, build your narrative, and understand the funder. 
State and Regional Grants 
State and regional grants are for a diversified portfolio of companies operating in a specified geographical area. Here are some resources to help you find what's available near you: 
The Economic Development Administration (EDA) 
This government agency provides grants and technical assistance to support economic growth and innovation. To search for regional offices, you can use the economic development directory.
In 2022, the EDA's Build to Scale (B2S) program made $45 million in federal funds available to build regional economies through technology-based economic development and initiatives accelerating high-quality job growth. The recipients were from 50 organizations and 26 states, including venture development organizations, state agencies, nonprofits, and higher education institutions. Keep an eye out for programs like this in the future. 
Grant Size:

The

Venture Challenge

of the B2S program offered grants up to $1.5 million, and the

Capital Challenge

offered grants up to $400,000.

Grant Type: Regional – EDA
Qualification: O

rganizations that aid companies in developing the next generation of technologies. Applicants must provide a matching share equal to at least 50% of the

total project cost.

How to Apply: A

pply through

grants.gov

.

Competition: High
Small Business Development Centers 
These centers provide support, technical assistance, and training for small businesses and aspiring entrepreneurs. With links to local universities and different agencies, they will be able to connect you with small-business grant opportunities.
The Minority Business Development Agency (MBDA) 
The MBDA has a network of business centers devoted to promoting minority-owned small businesses and helping them access capital (like grants and loans) and compete in emerging markets. Any local MBDA center can assist startups when applying for federal, state, and local business grants. The agency even holds a small-business grant competition; you can see updates here. Check the MBDA website for their searchable directory to find your nearest MBDA center. 
Corporate Grants
Corporate grants come directly from a major corporation wanting to impact a specific social change agenda or industry. These are a couple of grant programs that have caught our attention: 
FedEx Small Business Grant Contest
The nationwide competition awards grants annually to small business owners and entrepreneurs, including prizes like FedEx credits. They encourage applications from minority business owners. 
Grant Size: T

he amount awarded varies from year to year. Typically, the top three businesses receive a $50,000 grant and $4,000 in FedEx print and business services.

 

Grant Type: C

orporate – FedEx

Qualification: U

S-based for-profit small businesses operating for at least six months with 50 or fewer employees. Less than $5 million in annual sales revenue.

How to Apply:

Submission period opens in February. The sign up for FedEx emails to receive updates. Nonprofits, resellers, franchises, and independent consultants cannot apply.

Competition: Extremely high
National Association for the Self-Employed (NASE) Growth Grants
NASE's Growth Grants provide grants for training, marketing, investing in hardware and software, and other growth enablers. The organization has awarded nearly $1 million in startup grants since 2006.
Grant Size:

Small-business grants worth up to $4,000

 

Grant Type: Corporate – NASE
Qualification: S

elf-employed or leading microbusinesses needing funds for growth expenses. For some grants, you must be a member for 90 days before applying.

How to Apply:

You must join the NASE or already be a member to access the application. Applications open from January to March each year. 

Competition: Medium-High
Visa Everywhere Initiative
Each year, Visa runs a global competition for fintech startups specializing in payment processing, digital services, and security. The grant also offers exposure to potential investors and media coverage. Previously, Visa partnered with TechCrunch to livestream finalists.
Grant Size:

First place wins $50,000 grant, second place $15,000 and third place $10,000. The top three winners are also eligible to win the Audience Favorite prize of $25,000.

 

Grant Type: Corporate – Visa
Qualification: Fintech startups
How to Apply: Apply on the Visa Everywhere website.
Competition: Extremely high
Specialty Grants
After years of specific demographics being left behind in the grant department, many organizations now focus funding efforts on minority groups or women, among other communities, to help spread entrepreneurial success and boost economic growth. 
Lastly, before diving in with both feet, remember that with an instant cash boost — no repayment needed and more publicity than ever before — you'll want to make sure you have adequate protection. 
Founder Shield specializes in knowing your industry's risks and takes the stress out of the whole insurance buying process with a one-stop shop. Feel free to reach out to us, and we'll walk you through the process of finding the right policy for you.
---
What to know more about startup insurance? Contact us at info@foundershield.com or create an account here to get started on a quote.