How to Update Workers' Comp for Remote Employees
Although remote work is nothing new, this work arrangement skyrocketed in popularity during the global pandemic. Employers probably didn't think at that point that relying on a home-bound workforce would be a lasting trend — but it is. 
Strangely enough, employees can still sustain work-related injuries at home, making workers' compensation coverage as critical as it ever was. (Plus, it's the law in most states!) However, navigating the challenge of off-site employees regarding work-related injuries is tricky. Here's what you need to know.  
Understanding Workers' Comp and Remote Employees 
A common question that clients ask us is whether workers' compensation covers remote employees. And the short answer is yes.
The next question is typically about whether a client needs it. Again, the answer is a resounding yes. But let's review the details of workers' comp insurance to make sense of this commonly misunderstood policy. 
If an employee is injured or becomes ill because of their job, workers' comp insurance responds to cover their lost wages and medical expenses. As mentioned, this particular coverage primarily benefits the employee — but it's vital insurance for employers. 
---
Pro Tip ↓
For more information about this policy, see our helpful post: Workers' Compensation: State-by-State Guide
---
For example, when an employee experiences a work-related injury or illness, employers and insurers typically have a limited time frame — usually 14 to 30 days — to look further into the situation and process the claim. Insurance carriers can either approve or deny the claim. Workers' compensation insurance covers disability benefits, including the following:
Lost wages

Medical expenses

Ongoing healthcare costs

Funeral expenses
Common Work-From-Home Injuries 
Many US companies have welcomed or required their employees back to the office. Others have offered their teams a hybrid arrangement, and others still have created a work environment built around the work-from-anywhere concept. Unsurprisingly, remote hires outpace in-state hires, as seen in the graph below.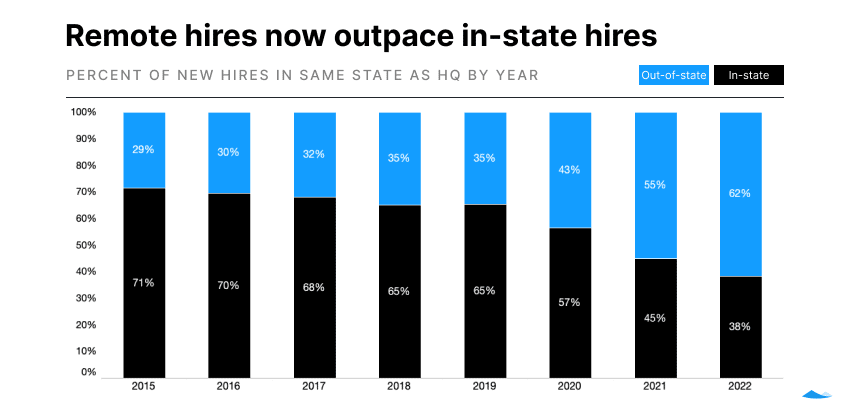 Source: Carta
This convenient work arrangement prevents many in-office accidents from unfolding; however, injuries can still happen when employees work remotely. That said, the following are the most common remote work injuries:
"Cumulative" Injuries

are damage or pain due to repetitive movement, such as typing or sitting awkwardly at your desk. Most of the time, the painful conditions impact muscles, tendons, and nerves. Medical providers often trace these injuries back to poor workstation ergonomics.  

Trips, Slips, and Falls

are some of the most commonly reported injuries in the US. Most workplaces have protocols for these accidents but rarely do remote workers have a plan for when they trip, slip, or fall. 
Reporting a Workers' Comp Claim
Employees must typically report their work-related injury to their employer within 30 days. The employee and employer work together to file the claim appropriately and receive approval or denial from the insurer. 
While each employer is different, the employee handbook usually outlines the claim-filing process. This helpful guide sets the standard for various procedures, safety protocols, and much more. However, some employers fail to create or update their employee handbooks. 
---
Pro Tip ↓
For more details about the best practice of creating an employee handbook, see our post: EPLI Coverage: How Does Your Employee Handbook Measure Up?
---
Avoiding a Common Workers' Comp Pitfall With Remote Employees
Companies employing a remote workforce face unique challenges that we've never navigated before. We've already reviewed how workers' compensation insurance functions for remote employees and the importance of established processes. However, let's talk about a common pitfall we've recently seen surface too many times. 
The issue is that employers sometimes fail to add remote workers to their current workers' compensation policy. You can imagine the conundrum employers find themselves in when a remote employee files a workers' compensation claim only to realize that the employee isn't even on the policy.
Updating the policy isn't always as effortless as adding another employee to the policy. For some states, such as New York or California, employers can incur fines by the state if there is an employee on the payroll, uncovered by a workers' compensation policy.
Furthermore, many carriers have difficulty backdating coverage, especially if there is no workers' comp policy in place already. If coverage does exist, likely the employee can be added via endorsement.  
Adding Employees in the New States to Current Policy
Here's the thing, adding a new remote employee to your current workers' comp policy isn't such a tall order. In fact, we help our clients check off this task from their to-do lists routinely. And postponing adding new remote employees to your current policy will likely land you in the hot seat 
Avoid the fines, lawsuits, and headaches. Let us help you. A trusted commercial insurance broker will help keep you on the path to profitability, instead of scrambling for litigation funds.
The bottom line is that you must update your workers' compensation insurance when you add employees in new states. Plus, if you add any employees in the state of New York, we would be happy to help you with Disability Benefits Law (DBL) and Paid Family Leave (PFL) coverage. 
Understanding the details of what coverage your company needs can be confusing. Founder Shield specializes in knowing the risks your industry faces to make sure you have adequate protection. Feel free to reach out to us, and we'll walk you through the process of finding the right policy for you.
---
What to know more about workers' compensation insurance? Talk to us! Please contact us at info@foundershield.com or create an account here to get started on a quote.