Navigating US E-Scooter Sharing Regulations & Insurance
E-scooters and e-bikes have quickly blossomed into one of the fastest growing marketplaces in the US with astounding adoption rates for what is a new form of public transportation. Shared electric scooter rides accounted for 45.8% of all micromobility trips in 2018:
However, those e-scooter and e-bike operators have come to learn that operating a mobility-sharing business in most US cities means securing permits from the respective city officials. While permits may seem a bit dramatic, city government regulates public transportation.
And technically, micromobility and sharing economy companies offer alternative public transportation. As a result, these companies must have permits to operate. 
Keep in mind; cities apply specific insurance requirements to companies for a valid reason. Mainly cities try to transfer risk and liability of micromobility operations to the private operating company, keeping the city itself free of responsibility. 
As you may have guessed, insurance requirements are only getting more strenuous as time goes on. Also, cities launching pilots are looking toward examples on the West Coast, such as Los Angeles County, as the most tenured city to regulate the space. 
This look towards LA County has proven to be problematic for early-stage operators, as LA County is known to hold the most cumbersome of insurance requirements. The flip side to those intensive requirements is that if your company can comply with LA, you can almost guarantee that your micromobility company will be able to meet almost any city's insurance requirements. 
For example, Bird, Lime, and other significant players who dominate LA (amongst other cities) can often enter new cities quickly for plenty of reasons. One primary reason is that they typically comply with insurance regulations in any city, giving them a competitive advantage when the permitting process begins.
Los Angeles Insurance Requirements: Setting the Standard
Los Angeles County is often considered the birthplace of electric scooter share companies. After all, Bird not only used Santa Monica as its beta testing grounds but also calls it home base. As a result, Los Angeles County quickly accepted this alternative transportation and was the first to include insurance requirements on its operating permit application. 
LA County has some of the most stringent insurance requirements on e-scooter companies, especially regarding required limits, which include:
5M Limit of General Liability (GL) per occurrence for bodily injury (BI), personal injury and property damage (PD)
5M GL general aggregate 
1M Hired and Non-Owned Auto or Commercial Auto liability
1M Employee Benefits 
In addition to the aforementioned prerequisites, micromobility companies must also maintain a comprehensive 5M umbrella policy, which includes total limits of 10M per occurrence/aggregate for general liability, 6M for HNOA policy coverage, and 6M for employee benefits. But wait, there's more to it!
Operators must also carry a 2M Errors and Omissions (E&O)/Cyber policy. While this policy may seem like an afterthought, it can be tricky to secure due to concerns around vicarious liability on the technology E&O.
No other cities in the US currently request micromobility companies to carry a more substantial amount of insurance than LA County. Which brings us back around to our point, that if you can comply in LA County, you can pretty much comply anywhere in the US. 
The take-home message is that electric scooter share companies carrying higher limits and more robust insurance programs can "check off the insurance box" quickly when applying for a city permit. That way, they can focus more fully on the remainder Request For Proposal (RFP) process in each city. 
Plus, this strategy increases their chances of having a clean and clear application with strong risk management practices, which can only help get your name to the top of the pile with city regulators. In the end, leading to a won permit and new city in which to launch their scooters or bikes.
Key Regulations E-scooter Companies Need to Know 
When it comes to the permitting process for a city's pilot program or initial launch of its select operators, compliance is the name of the game. Companies who've experienced the application process know very well that to receive approval from a city, your ducks must be in a row. 
Plus, with so many US and overseas e-scooter companies popping up, it's often a race to see who can garner the cities attention and approval the fastest. Companies who understand the process and compliance protocols for other cities often have the best chance of approval—they've jumped through these hoops before! 
Insurance, of course, is one of the essential keys to landing a successful application. However, the list of requirements goes on, including:  
Technology  
Do you have a mobile app for frontend (rider) and backend (operator) usage, and does that application have the following capabilities?
Age verification. Ability to verify the age of the user and potentially verify a valid driver's license (all cities require riders to be 18 years or older).
Telematic capabilities. Cities want to ensure that the operator knows where their scooters are at all times. Some cities require geo-fencing (restricting the area of operation with remote shutdown capabilities or remote speed reduction within certain densely populated areas).
Safety
Some of the most common safety requirements include:
Helmet requirements (mandated in most cities)
Speed restrictions 
Incident reporting procedures (what happens when someone is injured or a scooter is damaged while being ridden)
Warnings and instructions provided on the applicable mobile app

How to unlock and start the scooter
Where to park when done
Agree not to operate while under the influence of drugs or alcohol

Waiver of liability
Parking requirements (cities such as Hoboken, NJ are attempting to designate specific parking zones where the rider must drop off their scooters) 

Note: A constant battle between cities, operators, riders, and the general public is the potential issue.  
Insurance 
Other than requiring some GL, insurance remains a constant headache for e-scooter operators. Among all city-designated requirements, insurance is consistently one of the most cost-burdening pieces without uniformity. 
A tricky detail to navigate is that each city will apply and require differing levels of insurance, such as: 
Atlanta requires $1M GL limit per occurrence for BI/PD and $2M in the aggregate, and that's it.
San Jose, CA requires:

$2M per occurrence and $4M in the aggregate
$1M in auto (HNOA or comm auto) 
$5M umbrella to sit over the two above coverage pieces (totaling $7M per occurrence/9M aggregate + $6M auto)
$1M workers' compensation
$1M tech E&O/$2M cyber

San Francisco, CA requires: 

$2M/$4M GL
$2M auto
$1M workers' compensation
$1M/$2M tech/cyber

Tempe, AZ requires:

$1M/$2M GL
$1M auto 
$5M umbrella 
$1M workers' compensation

Kansas City, MO requires:

$2M/$4M GL 
$1M workers' compensation
$1M auto
$2M tech E&O
As you can see, nearly every city requires something a little bit different, which can create mounds of confusion.
For example, some cities want an umbrella policy to sit over casualty policies (GL and auto most often apply here). Others will only request excess liability limits coverage above the GL only. Nevermind the fact that the actual (total) limit of liability requirements differ at almost every corner! 
To complicate things even more, some cities accepting applications may not even have requirements in place yet. Others can decide to restructure their permits, operators, and general requirements and request a re-RFP for all operators, such as San Antonio, TX conducted this year. 
It's safe to say that plenty of professionals view insurance as a necessary evil. However, in the e-scooter space, it can serve as a key to unlock one of the many doors needed for city approval. 
For any company looking to launch in a primary city we would suggest the following: 
$1M/$2M GL 
$1M auto
$5M umbrella 
$1M workers' compensation
$2M tech/cyber 
For a secondary or tertiary city: 
$1M/$2M GL 
$1M auto
$2M or $3M umbrella 
$1M workers' compensation
$1M tech/cyber
Cities Launching New E-scooter Pilots
E-scooter pilot programs are sprouting up in cities all over the country. To launch a pilot city, officials will first research the environmental and safety implications. Also, officials will also request engagement and comments from the public. 
Following those initial steps, a bill will be presented for voting to get the green light. Next, they'll send out an RFP and invite e-scooter companies to apply for a permit. The pilots range from 3-6 months, after which officials will decide on whether to grant permanent business licenses.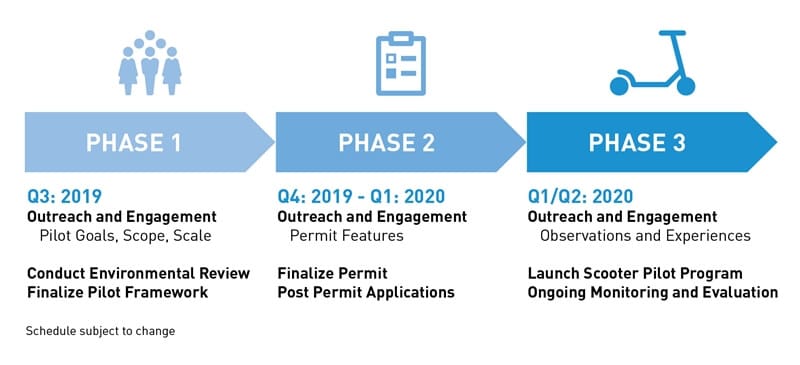 Upcoming and Recently Announced Dockless Scooter Pilots
Seattle, WA –  Announced in August, a robust public engagement process to build a community-driven electric scooter-share pilot program is planned for launch as early as Spring 2020. 
Chicago, IL – Currently running a pilot that granted permits to 10 e-scooter operators. It's due to end on October 15, 2019. The city will then review the pilot, and a decision will be made to grant permanent business licenses.
Phoenix, AZ – The pilot program was launched on September 16, 2019, and will last six months.​ The City Council will evaluate the program after three months into the program and again after the pilot's conclusion.
Tuscon, AZ – The Pilot launched on September 12, 2019, with two operators: Bird and Razor. Each operator may begin with as many as 500 scooters (1,000 total), and it will run for six months.
Santa Clara, CA – The City is in the final stages of developing a regulatory and permitting program for the use of shared mobility devices (bicycles and scooters) within city limits.
Toronto, Canada – Just launched a pilot in September.
Ontario, Canada – Ontario plans to run a five-year pilot that allows electric scooters on the province's roads. 
For e-scooter and dockless mobility companies, understanding and anticipating permit requirements is critical to getting approved for pilots and permanent licenses. Among the laundry list of city compliances placed on the e-scooter operators, insurance continues to be toward the top of the list—with the limit of liability requirements ranging across a broad spectrum. 
Remember, afforded permits are limited. Getting this application and compliance process right from the outset improves your chances of expanding to new cities drastically. 
Navigating the "Chicken and the Egg" Situation for New Ventures
Complying with a city's insurance requirements is one part of the overall permitting process. However, it is often the most burdensome requirement from a financial perspective. This situation can often create a "chicken and the egg" problem for new ventures in this space, such as:
Cities want scooter companies to present proof of coverage—meaning a purchased and active insurance policy complying with the limits of liability the city has set.
Scooter companies want to ensure they'll secure the permit for the city before purchasing these high-cost policies, as there is nothing to cover if the company does not have scooters on the street.
Before offering quotes, Insurance companies often want to see that the scooter company is financially sound and well-funded so they can purchase, maintain, and cover claims within their deductible.
Investors want to see that a permit has been secured before they're willing finalize their investment to support the growth and expenses, such as the insurance policy. 
All of these points create a self-fulfilling prophecy, whereby one party is looking at the other to take the first step. The result is a micromobility company with neither coverage nor a city in which to launch their operations. 
How to Use Insurance as a Competitive Advantage
Instead of a burden or "chicken and the egg" problem, Founder Shield views insurance as an asset. Securing a reliable insurance policy is an excellent way for micromobility companies to take the first step. This bold step wins an advantage over the competition, and yet, the strategy doesn't stop there! 
The one-two punch is to 1.) purchase a policy with target cities in mind, and 2.) secure the limits required in the most stringent of those cities. This approach will allow the e-scooter or e-bike company to apply for their permit immediately. And that pesky to-do box for insurance? Check.
An enormous burden turned genuine asset; an insurance policy can help to transform and expand your micromobility company quickly. Essentially, this strategy removes a requirement from the permitting process, putting the company one step closer to securing the permit—ahead of the competition. Plus, you can factor the associated costs into the launch when contemplating the viability of the city. 
Founder Shield acknowledges that insurance has been a considerable barrier for new ventures in the shared micromobility space in the US. They aim to change this narrative by offering retention insurance that protects their clients' growth and supports them as they scale up.
When it comes to e-scooters, we feel it crucial for successful expansion and growth to consider your insurance policy as a key—unlocking the door to each city. Once that door is open, the entire process becomes much more manageable. 
---
Want to know more about insurance for microbility and shared economy companies? Talk to us! You can contact us at info@foundershield.com or create an account here to get started on a quote. You can also check our post about insurance rfp.