Securities Suit Filings Skyrocket – Private Tech Companies, Take Note!
From 2016 to 2019, the number of tech securities class-action lawsuits has increased significantly. In 2019 alone, the number of these particular cases was record-breaking — but what's all the fuss? Besides, plenty of companies experience lawsuits every day and come out fine on the other end. In this post, we examine why the roaring number of securities class action lawsuits should cause private tech companies to pause and take note — because their assets could be at stake next.
Securities Suits Skyrocketed in 2019
The astounding number of securities suits filed against tech companies in 2019 was 85. That said, 65 securities class action lawsuits were filed in federal court, and 20 were filed in state court. According to a Cornerstone Research 2019 Year in Review report, the total number of securities class action lawsuits was 428 in 2019, a jump from the 420 in 2018.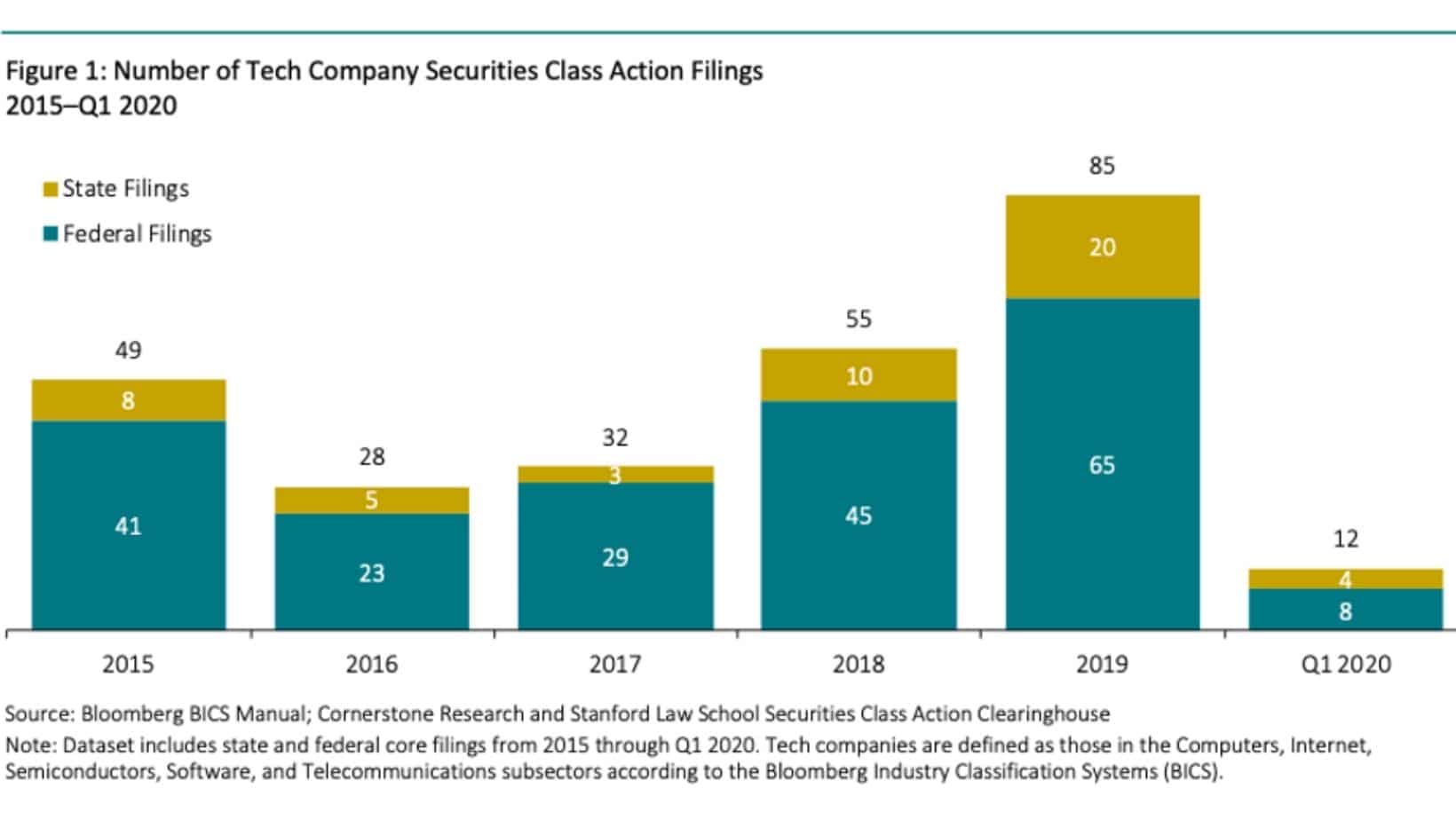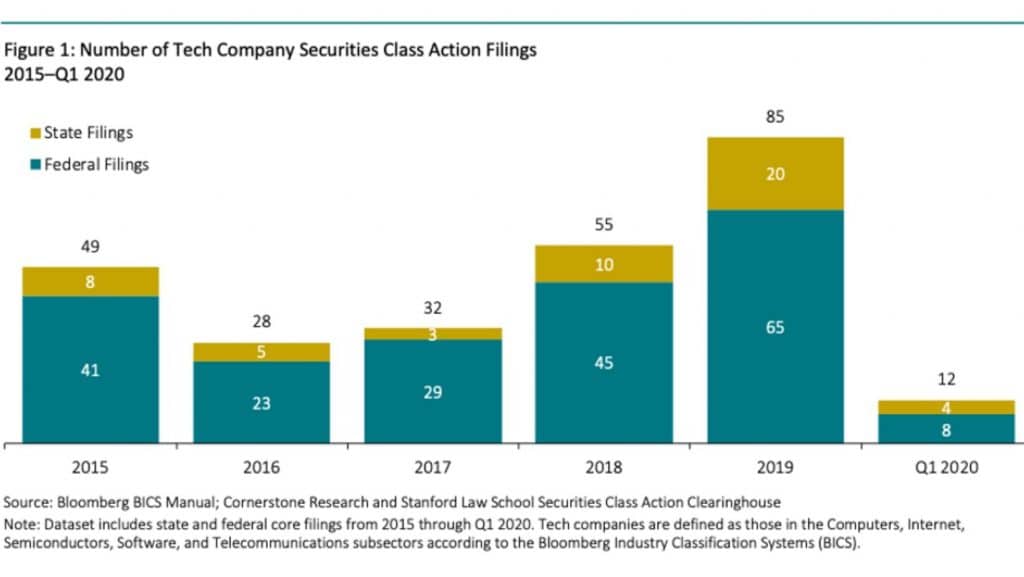 Keep in mind; the number of these types of lawsuits has been on an upward trend, making the past year all but shocking. For example, from 2016 to 2019, filings against tech companies increased each year. So, to see another year of increase in 2019 is par for the course, per se. Furthermore, 20% of the total amount of securities suit filings can be attributed to tech companies during this four-year time frame.

According to a CNBC report, "The rate of suits filed against companies has soared an estimated 150% over the last decade." Navigating the recent COVID-19 pandemic has undoubtedly impacted litigation — but there's more to the story.
Why the Influx of Security Suit Filings?
Regarding the pandemic's impact, Q1 2020 reflected a decrease in securities suit filings. However, we can likely attribute this tap on the brakes to the slowdowns associated with COVID-19. A multitude of operational issues will probably produce an influx of filings. But we don't know the pandemic's full impact, and there's a good chance we won't for another couple of years.

We know that the amount of filings over the last four years has been on a steady rise. As a result, tech companies have experienced historically large amounts of aggregate market capitalization losses. As imagined, we can point a guilty finger to the increase in securities suit filings. And yet, this cycle is one that perpetuates itself.

According to Kevin LaCroix, Executive Vice President at RT ProExec, "The aggregate Disclosure Dollar Loss (DDL) of tech company securities suit filings rose to $161 billion in 2019, an increase of 27% from the $127 billion in 2018."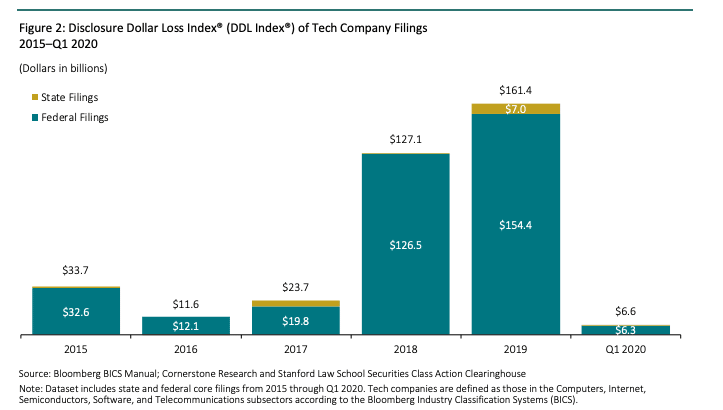 From state vs. federal filings to the impact of COVID-19 on significant market losses, there are many reasons for the increase in securities suit filings. There's no better time for companies across the globe to review their risk management plan to ensure a well-protected future.
The Role of D&O Insurance in Technology
With securities suit filings on the rise, both public and private tech companies must safeguard their business. In this post, we focus on private companies, merely because if public tech companies are facing a record number of lawsuits, private tech companies will soon follow suit. It's the nature of the beast.

Private tech companies include businesses in crowdfunding spaces that haven't undergone an initial public offering (IPO). Like their professional counterparts, private tech companies rely on their leadership to make crucial decisions, from everyday business operations to vital financials. One mistake could ripple through and devastate an entire company.

As a result, directors and officers insurance (D&O) is designed to protect company leaders from personal liability caused by a professional decision or action. After all, when it comes to personal liability, homes, bank accounts, and assets are fair game. And losing at this game could mean considerable personal damage.
For example, over 25% of all private companies experience a D&O-type loss, averaging a total cost of $394,000. The highest loss reported was over a jaw-dropping $17 million.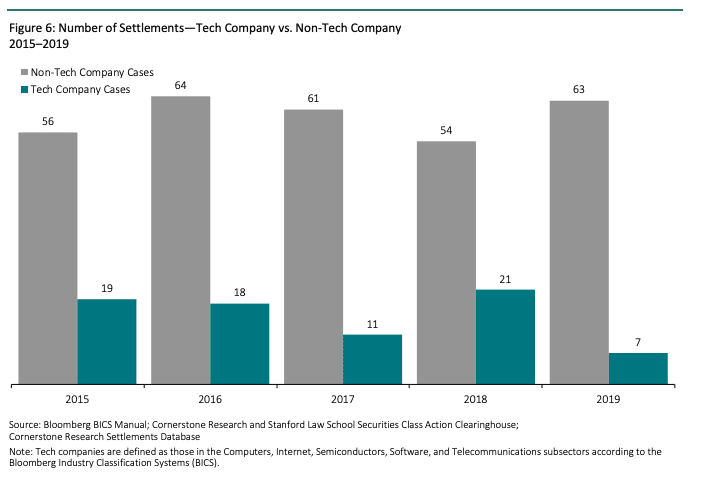 For example, over 25% of all private companies experience a D&O-type loss, averaging a total cost of $394,000. The highest loss reported was over a jaw-dropping $17 million.
Therefore, D&O insurance comes in 3 parts, which include:
Side A
Suppose directors are personally sued and are forced to pay defense costs and settlements, this portion of D&O insurance kicks in to protect the individual. However, Side A will only pay the individual directors if the entity can't, such as if the company is insolvent. Many private tech companies opt for additional Side A coverage limits, which is an excellent option.
Side B
When the company (or entity) indemnifies individuals named in the lawsuit, Side B coverage reimburses those costs. But it only extends to indemnifying insured individuals named in the lawsuit.
Side C
This coverage provides a balance sheet protection for the company if it is named in a lawsuit alongside an individual director. Side C coverage will reimburse the costs and settlements incurred.
Why Private Tech Companies Need D&O Insurance
Lamentably, many private tech companies operate under the pretense that a significant lawsuit won't impact them, merely because they don't answer to shareholders. This line of thinking is problematic because lawsuits tank private companies every single day. And the tech industry isn't immune to this sort of damage whatsoever.

That said, private tech companies should take note of the increase in securities suit filings. The uptick in cases should motivate these companies to acknowledge their vulnerabilities and seek adequate protection ASAP.

According to LaCroix, settlements are often smaller and play out faster for tech companies than non-tech companies. But it's not all good news. Larger settlement amounts often take much longer to settle, no matter what company type. Keep in mind that money dedicated to legal costs are still viewed as a lost cause, as well. Protecting your company funds is imperative.

For example, any private tech company that uses crowdfunding or plans to IPO needs D&O insurance. An increase in company capital can motivate others to file various suits. Keep in mind; we live in a litigious society — people will sue at the drop of a hat. Safeguarding a private tech company and its leaders requires nothing less than a robust risk management plan. Without one, businesses may face steep financial consequences.
Key Takeaways and Predictions
Whether a company is private or public, recent litigation trends aren't picking and choosing which business types to target most. We see these trends impacting public companies and the private sector, especially heavily funded tech startups.

The current disconnect between the performance of the global and US economy on the one hand and record-setting stock prices on the other, provides fertile ground for securities suits.

When startups (tech or otherwise) can't launch – even after providing compelling evidence of proof of concept – investors are likely to become impatient, leading to additional litigation.
Companies whose business models have pivoted to Covid applications run the risk of stepping outside their comfort zone – failing to meet expectations (market and investor) – another potential trigger for litigation. Essentially, the connection between "smart" business decisions and low litigation likelihood has become frayed.
Finally, the November election makes the footing even more unstable. Will a democratic victory lead to more regulation and even higher litigation filings? Will the re-election of the current US President lead to the further disruption of norms in general? Trends are likely to continue; litigation is likely to increase. Under these conditions, the proper coverage under a D&O policy, also called a Management Liability policy, seems more important than ever.
Understanding the details of what coverage your company needs can be a confusing process. Founder Shield specializes in knowing the risks your industry faces to make sure you have adequate protection. Feel free to reach out to us, and we'll walk you through the process of finding the right policy for you.
---
Want to know more about D&O insurance? Talk to us! You can contact us at ​info@foundershield.com​ or create an account ​here​ to get started on a quote.