Unicorn Companies Vs. Zebra Companies: Which Is Better?
Comparing companies to unique animals is nothing new. Wolves, bulls, bears, lobsters, sharks, and porcupines are only a few creatures that often represent market terms or even company characteristics. Since the topic of unicorn companies vs. unicorn companies is buzzing in professional circles, we're going to break down what these businesses honestly are. Here's a look at these business models and how to know what's right for you.
What Is a Unicorn Company? 
Aside from being a legendary creature, a unicorn also represents the financial prowess of particular venture-backed businesses. These companies are fast-growing startups valued at $1 billion that haven't undergone an initial public offering (IPO) yet. 
It's likely no surprise that over 550 unicorns exist in the world. According to CB Insight's list of unicorn companies, some of the most significant ones are Bytedance, SpaceX, Instacart, and Stripe. And that's just for starters. 
Entrepreneur Aileen Lee coined the term in 2013, and it's stuck. We attribute unicorns' success to the get big fast (GBF) strategy. This method relies on rapid expansion through massive funding rounds. Additionally, significant price cuts push unicorns to the front while leaving competitors in the dust. 
Some experts claim this GBF strategy is precarious because it often lacks vital sustainability factors — but it's working out for plenty of entrepreneurs. Keep in mind; unicorns are typically financially attractive to all parties — at least during the fat years.
What Is a Zebra Company?
Where unicorn companies thrive and use the venture capital (VC) boom to their advantage, zebra companies reject this investment model. Instead, zebras embrace the development and discovery of alternative funding sources. 
The most critical element to know about a zebra company is that they function with a two-fold purpose. Not only do they strive for profitability, but they also aim to improve society. For this reason, they are known as "both black and white," as Mara Zepeda, CEO and co-founder of Switchboard, describes. She goes on to explain that they are for-profit and for a cause.
Like unicorns, zebra companies still focus heavily on profitability; however, they approach it differently. Instead of exponential growth and extraordinarily high returns on investment, zebras' trajectory is a steady slide up.
What's the "Big" Difference? 
It's evident that in comparing unicorn companies and zebra companies, they're alike in many ways — but what honestly sets them apart? 
The short answer is the method.
However, the long answer is that unicorns have a revenue curve shaped like a hockey stick — a short, flat curve sloping up into a long, steep turn. Conversely, zebras' revenue curve is more like Cavanal Hill in Poteau, Oklahoma. It's a slow, upward rise to the tippy top.
Let no one tell you that one method is better than the other; to each their own opinion. However, it's critical to consider what each company must endure to reach its ultimate goal. 
Unicorn Companies vs. Zebra Companies
Unicorns, with impressive sales decks, spend their energy attracting VC investors. Exponential growth is the golden ticket, and an IPO is often their end game. Players are assertive, and competition is usually the lifeblood of these companies. The game is fast-paced, exciting, and dog-eat-dog, per se.
Zebra companies have equally impressive sales decks, but they use their resources to find other funding efforts aside from traditional venture capital. Instead of having their sights set on an IPO, most zebras focus on sustainable prosperity. And lastly, rather than competing with other companies, zebras typically foster a more collaborative spirit. 
Which Is Better (for You)?
Certainly, growth is a primary focus for any startup. If it's not, your company will likely be in serious trouble soon. The variable that will set you up as one type or the other is your strategy for growth. 
Do you dream of disrupting the current market with innovation and new technology, for example? Or would you rather contribute to a secure market, making it better for all those involved in it?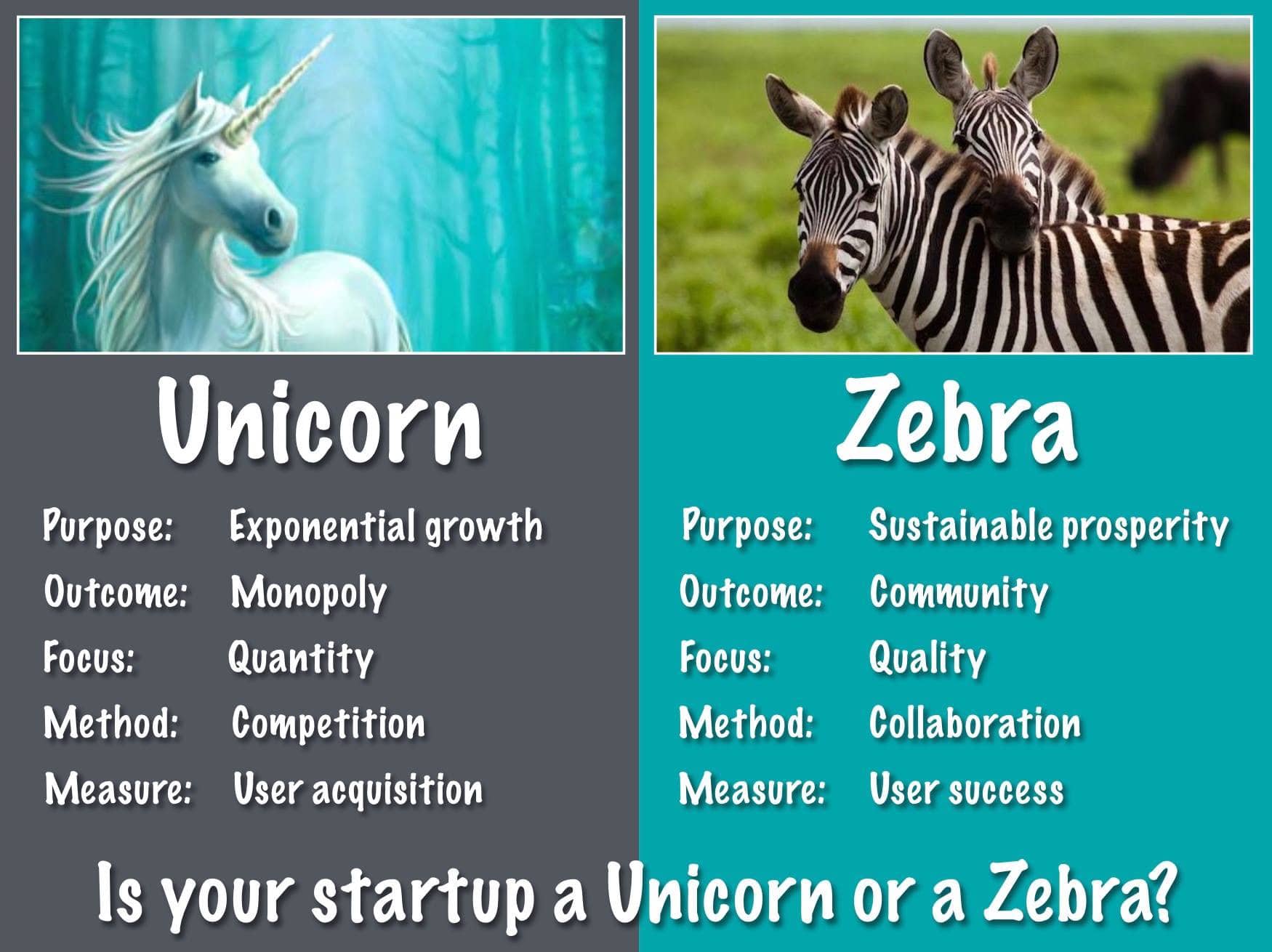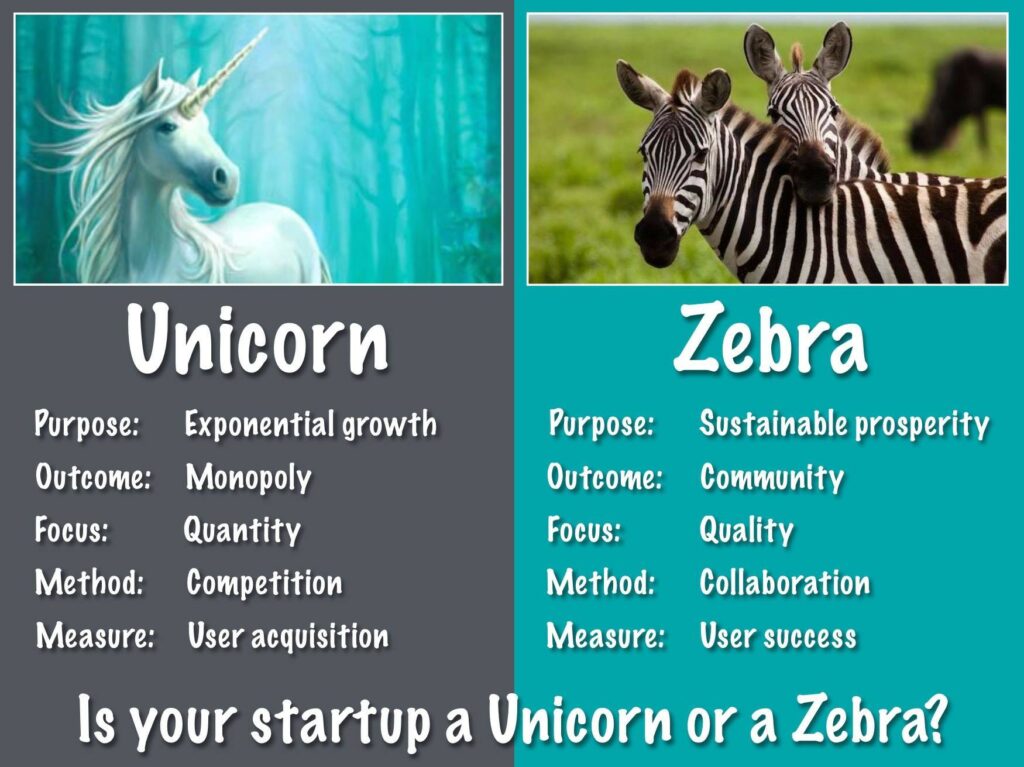 Source: Small Business Forum
Answering these questions will help you decide on the approach you want to take with your business. Unicorn leaders are often daredevils; they like risk and the excitement of the hunt. Zebra leaders value security and balance, slowly and steadily achieving their goals. Each type is valuable to our economy, despite its operational or developmental style. 
Do Unicorns and Zebras Face Different Risks?
No matter the growth method you choose, some of the risks remain the same. Unicorns and zebras are what we call growth-stage companies. Some of the primary exposures include:
Cybersecurity

Personal damage and bodily injury

Third-party liability lawsuits

Property damage

Lawsuits involving company leaders
The following are some of the essential policies we recommend rapidly growing companies to consider. Not only will these coverages support your business's success, but they will also help you maintain longevity in your particular industry. 
General Liability
General liability offers broad protection against some of the most fundamental risks companies face. Known as "slip-and-fall" or "all-risk" insurance, this policy covers personal or property damage and bodily injury occurring on the business premises.
Cyber Liability
Cyber insurance protects companies from third-party lawsuits relating to electric activities (i.e., phishing scams). Plus, it offers many recovery benefits, supporting data restoration and reimbursement for income lost and payroll spent.
Errors & Omissions
Professional liability, also known as errors and omission (E&O) insurance, covers companies in third-party or client lawsuits claiming substandard work or service. Work errors or oversights, missed deadlines, budget overruns, etc., often result in costly cases — but E&O insurance responds to these mishaps.
Property
Whether it's a devastating fire, natural disaster, or burglary, property insurance responds. This policy reimburses companies for direct property losses, supporting recovery and momentum.
Directors & Officers
Shareholders, competitors, investors, etc., can sue a company's directors and officers, putting their personal assets at stake. Directors and officers (D&O) insurance protects these assets from lawsuits alleging leaders of wrongful acts managing the business.
Key Person
In the unfortunate event that an essential member of your team passes away, this coverage responds to many professional concerns. It provides funds to help your company recover from the loss and eases investor's financial concerns while letting you focus on your team and business's future.
Understanding the details of what coverage your company needs can be a confusing process. Founder Shield specializes in knowing the risks your industry faces to make sure you have adequate protection. Feel free to reach out to us, and we'll walk you through the process of finding the right policy for you. 
---
Want to know more about growth-stage package insurance? Talk to us! You can contact us at ​info@foundershield.com​ or create an account ​here​ to get started on a quote.