Why Personal Insurance Isn't Enough for Content Creators
Content creators have an increasingly important role in influencer marketing, developing the latest trends to pursue business growth, brand trust, and market exposure. However, with new opportunities also come unknown risks. Although brands and content creators team up to tackle unique marketing challenges, each party must protect themselves alone. Let's talk about some common pitfalls content creators face regarding risk management, along with tips on how to do it properly. 
Why Content Creators Need Protection 
Roughly 41 million creators have up to 100,000 followers. Additionally, experts expect the influencer marketing space to keep growing. It's skyrocketed from $13.8 billion in 2021 to over $14 billion already in Q3 2022. In 2030, the market may very well be valued at more than $143 billion. To drive this point home, see the graphic below outlining the impressive growth in past years.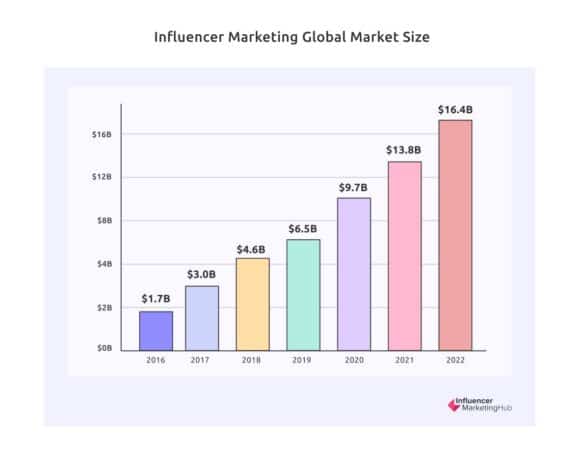 Source: Influencer MarketingHub
Content creators try new platforms routinely; however, many stick with the tried and true most popular platforms, including: 
Facebook

Twitter

YouTube

Instagram

Reddit

Snapchat

Website blog

TikTok

OnlyFans

Twitch
With so many platforms to choose from, content creators must protect themselves from vulnerabilities on each medium. Here are a handful of issues that content creators face, including IRL examples. 
Business interruption

: Service outages can come from many directions, from routine system maintenance to targeted DDoS or cyber extortion attacks. Consider Ariana Grande's YouTube issues when another popular

YouTuber hacked her account

, creating a mess to clean up.

Reputation risk and liability: Suppose someone challenges your claims about a product's usefulness, or claims that they own intellectual property (IP) that was misappropriated in a social media post. The liability could quickly fall back to you. Having IP insurance can be crucial in such situations, as it provides coverage and financial protection against potential legal claims related to intellectual property infringement or misappropriation, helping to safeguard your reputation and mitigate the financial risks associated with these challenges.
Regulatory compliance

:

Non-compliance could cost content creators big bucks, and the Federal Trade Commission (FTC) doesn't care how "influential" you are. For example, due to improper disclosures, the Teami brand and prominent influencers, like Cardi B and Kylie Jenner, are

under FTC fire

. Also, the FTC has issued warning notices to multiple celebrities and more than 700 companies, including Apple, BMW, Chevron, etc.

Data protection

:

Protecting confidential information is a top priority for most companies, but the

Robinhood and Twitch breaches in 2021

proved that these attacks could happen to anyone. Unfortunately, cybercriminals happily target smaller companies, mainly because they are easier targets with fewer layers of protection. What's more, data breaches in the US cost businesses an average of more than $4 million per incident.

Personal injury

: Endorsing a product on a public platform like Instagram or Twitter might seem casual, but product endorsements are heavily regulated. If the product is defective and causes someone personal damages, typically financial loss, the content creator who endorsed it could be held responsible. For example, Reality TV star Lisa Vanderpump

endorsed Slender TeaTox tea but discovered later that it caused multiple health issues.
Common Misconceptions Content Creators Face
Word travels fast in the content creator world, regardless of whether the news is accurate or hearsay. We've identified the most common pitfalls creators fall prey to when the stakes are high. 
Forgoing commercial insurance whatsoever
Many content creators experience snowballing success and become targets before they realize it. As a result, some of these individuals face liabilities before having any commercial insurance coverage. An excellent approach is to hope for the best but plan for the worst. Consider working with a seasoned commercial broker to help pinpoint your exposures and protect yourself against costly litigation. 
---
Pro Tip ↓
If you're new to managing risk, check out our step-by-step guide: Understanding the 5 Steps of Risk Management Process
---
Assuming the brand's policy will protect you
Content creators often team with brands to execute strategic influencer marketing. The company might cover some exposures depending on the brand's insurance policies and contractual requirements. However, it's highly unusual for a brand to entirely protect a partner content creator. Avoid making the mistake of assuming; instead, know your liabilities and be proactive in protecting yourself.
Depending solely on personal insurance
Relying on a personal insurance policy is likely one of the most common misconceptions our team has tackled lately. Still, this idea is such a misleading method. Beware if you're generating business revenue based on content creation and think that a personal homeowners policy — umbrella or general liability — will protect you. Here's why.  
These policies don't cover commercial endeavors or for-profit business activity. Many content creators have discovered this gap the hard way. Instead of depending on personal insurance, consider purchasing a small business product tailored for you, such as our Scale Social package or what is also called social media insurance. (More on this plan below.) 
What Coverages Content Creators Need 
Our Scale Underwriting and Founder Shield team enjoys being powered by technology and forward thinking. Yet, we understand that insurance is often an antiquated process, and it's tough for content creators to swim upstream. Slowing a fast-moving career merely to acquire "old school" insurance just isn't your jam. We understand. 
We think that the emergence of TikTok and other digital content platforms requires the insurance industry to think differently. As a result, we recommend content creators get insurance for influencers program containing protection from the following:
Advertising exposures

: This coverage protects against a claim for breach of contract from the advertising agent or brand.

Publishing exposures

: This portion protects against libel (defamation), copyright and trademark infringement, breach of confidentiality, negligent misstatements, bodily injury (arising from content) —  particularly beneficial for influencers promoting health foods.

Regulatory exposures

: FTC investigation and defense costs can add up quickly, but this coverage protects against failure to disclose paid endorsement. 
Crisis management costs are also available; however, it's most important to remember how beneficial a customized policy is for content creators. Only those of us neck-deep in the industry can genuinely understand what exposures there are to face. 
Fortunately, our Scale Social package is priced and explicitly structured for individual content creators. In other words, it's tailored for you, so it's affordable and easy to acquire — but you don't have to trust our word blindly. Look for yourself on our application page to get a feel for what we're all about.  
Navigating the intricacies of determining your company's coverage requirements can often feel like a complex puzzle. That's where Founder Shield truly shines – our expertise lies in managing risk specific to your industry, ensuring that your protection is comprehensive and tailored precisely to your needs. Don't hesitate to get in touch with us; we're here to guide you seamlessly through the process of discovering the perfect policy for your business.
---
What to know more about content creator insurance? Talk to us! Please contact us at info@foundershield.com or create an account here to get started on a quote.