Several factors have helped shape the fintech industry the past few years, such as technological advances, customer demands, social movements, etc. What's more, risks have changed directions and come from new sources, requiring fintech companies to tighten up securities even more than before. Let's review the fintech landscape from last year and look forward to what insurance trends we expect in 2022.  
The Fintech Landscape 
Less than a decade ago, fintech was a mere slice of the tech industry. However, with over $130 billion in capital, it's now the biggest funded category in the world. Of the money invested in 2021, 20% went to the fintech industry. As a result, fintech companies are expanding rapidly, with three times as many going public than in 2020.
We see new themes emerging in this industry, unsurprisingly spurred on by the global pandemic. For example, customers now want more financial access and more specialized products. Of course, Web3 is rising like never before. And many fintech companies are undergoing loads of consolidation or collaboration. This M&A activity strengthens the industry's current powerhouses and transforms small players into significant forces. 
Regarding risk management for fintech companies, we've watched multiple cyberattacks play out, striking fear in executives worldwide. Unfortunately, ransomware has increased in severity and frequently recently. Strangely enough, cyber liability issues have become entangled with directors and officers (D&O) litigation, increasing the pressure for company leaders to keep the company safe and secure. 
The Fintech Market Review for 2021
Last year was a transformative year for the fintech industry, powered by massive growth and development. Let's review some trends that surfaced in 2021. 
Fintech Funding Boomed
Whether it was M&A activity, IPOs, or SPACs, the exit valuation in 2021 compared to previous years was tremendous. As mentioned, $1 in every $5 of global funding can be attributed to the fintech industry. Pandemic-induced demands accounted for much of the massive expansion and outperformance last year, no doubt. Notice the increase of global fintech funding in the graph below.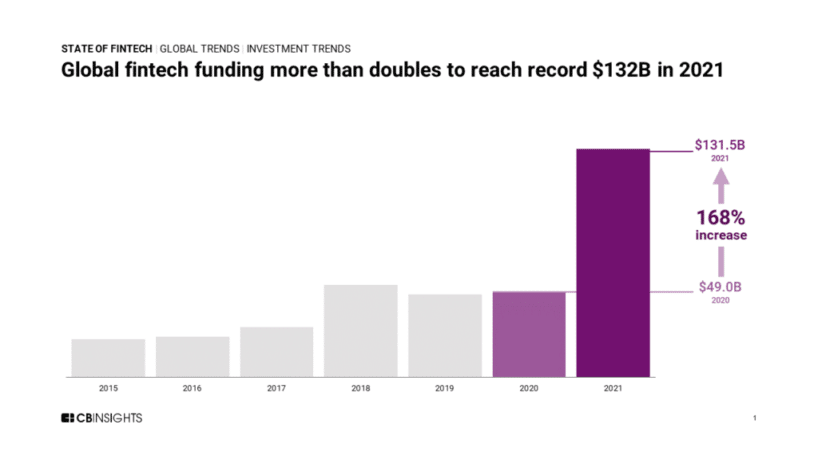 Source: CB Insights
Cyber-Focused Insurance Startups Abounded
With cyberattacks and various ransomware gangs threatening all-sized companies, many startups surfaced, ready to meet the cyber needs of fintech companies. These new organizations, such as Coalition, launched several models to address cyber insurance demands, including tech-enabled managing general agents (MGAs).  
Ecosystems Expanded
Ecosystems are a fancy term for partnerships. Nevertheless, the massive volume of electronic data teamed with the power of AI encouraged unique partnerships between fintech companies and other organizations. New platforms influenced these ecosystems, allowing omnichannel connectivity and interconnection between various services. This approach provided users will a highly integrated experience. 
The Fintech Insurance Outlook for 2022
COVID-19's coattails expect 2022 to provide challenges and opportunities for the fintech industry regarding insurance. Let's explore a handful of trends we think will roll out soon. 
Big Data Will Explode
Fintech companies will focus more on cybersecurity this year, increasing the need for data technology companies to step up to the plate. This year will likely be where data companies become the "it" thing. These businesses have data-specific information at their disposal, enabling insurers to build their client base based on risk prediction. On a side note, data companies will help insurers track and analyze data insights to make them more competitive.
Insurtechs Will Remain Popular
Gone are the days of navigating confusing and hard-to-buy insurance policies. Insurtech companies have risen to the demand by developing digital platforms to shop, tailor, and purchase coverage. Fintech companies will play a prominent role in these innovative developments. No doubt, the fintech industry will face new exposures and opportunities. Company leaders must establish solid best cyber practices and adhere to ongoing mitigation efforts, whether that means employee training or IT collaboration. 
Coverage Lines Will Tangle 
Directors and officers feel increased pressure to mitigate cybersecurity better in 2022. With remote work and hybrid schedules the "new norm," fintech executives now face vulnerabilities never seen before. Yet, the pressure builds to maintain best cybersecurity practices throughout their employees, mainly to protect the company's digital assets. 
For example, a shareholder's suit may hit directors and officers incredibly hard if a data breach occurs, thus utilizing D&O insurance for cyber claims. Unfortunately, we expect this type of litigation to continue in the future.


EVP and Customer Success Manager Rachel Jenkins explains further, "We are starting to see more, still limited but increasing, cyber claims bleed into D&O through shareholder litigation as there is an increased fiduciary duty on the C-suite to maintain proper cyber controls through regulation and industry requirements."
How Fintech Is Changing the Insurance Industry
The fintech industry is forward-thinking instead of the often antiquated insurance industry. So, teaming the two creates a unique partnership, and the outcome has been positive. Here are a few ways fintech impacts insurance.
Automated Underwriting 
Fintech companies were first in line to facilitate automated underwriting, a process that uses artificial intelligence (AI) and machine learning to evaluate a potential client's risk. Customer demand increased, and the insurance industry adopted the new process. Automated underwriting helps insurers to sort insurance submissions quickly. Plus, this enables carriers to spend less time combing through applications and more time creating customized policies. 
Fast Application Process
Naturally, automated underwriting speeds up the entire application process. In the past, potential clients would wait for weeks or months to receive approval on their insurance submission. Today, applicants can fill out user-friendly mobile apps and hear back within a short time frame. This new development improves the overall application process and increases customer satisfaction. 
Expedited Claim Filing
Much like the traditional application process, filing an insurance claim was once a laborious task that involved call center reps, agents, and adjusters, to name a few. However, tech advances have harnessed the power of mobile apps to provide an easy and painless way to file a claim. Many apps enable the policyholder to upload documents and photos, as well. With this wealth of digital data, insurers can process claims more quickly and efficiently. 
Remember, the world as we know it can change in a heartbeat. We've seen this happen in real-time. It's best to be ready for life's curveballs, and we're here to help you stay on top of market trends. So, join us as we roll out our Risk Management Insights: D&O Insurance Trends each quarter.
---
Want to know more about fintech insurance? Talk to us! Please get in touch with us at info@foundershield.com or create an account here to get started on a quote.