D&O Insurance for Canadian Cannabis Companies
---
Update: We've released a new whitepaper examining the Cannabis industry. We dive into the insurance landscape, legal climate and how to approach risk management for companies in this sector. You can download the report here!
---
Recreational marijuana has been legal in Canada since October 2018. Legalization has resulted in massive growth for the cannabis industry. Licensed cultivators, processors and sellers of marijuana stand to generate impressive profits as they expand their businesses.
In fact, it's already happening. Canopy Growth Corporation announced gross sales of $98 million and net revenue of $83 million in its third quarter fiscal 2019 report. Other major companies include Aurora Cannabis, Aphria, Cronos Group Inc., Namaste Technologies Inc., Halo Labs Inc. and Tilray Inc., just to name a few.
According to the Deloitte 2018 Cannabis Report, legal marijuana sales in Canada are expected to generate $4.34 billion in 2019. Although illegal marijuana sales will continue, consumers are willing to pay 10% more for legal products. Marijuana sales are also expected to impact alcohol sales as people substitute marijuana for beer, wine and spirits.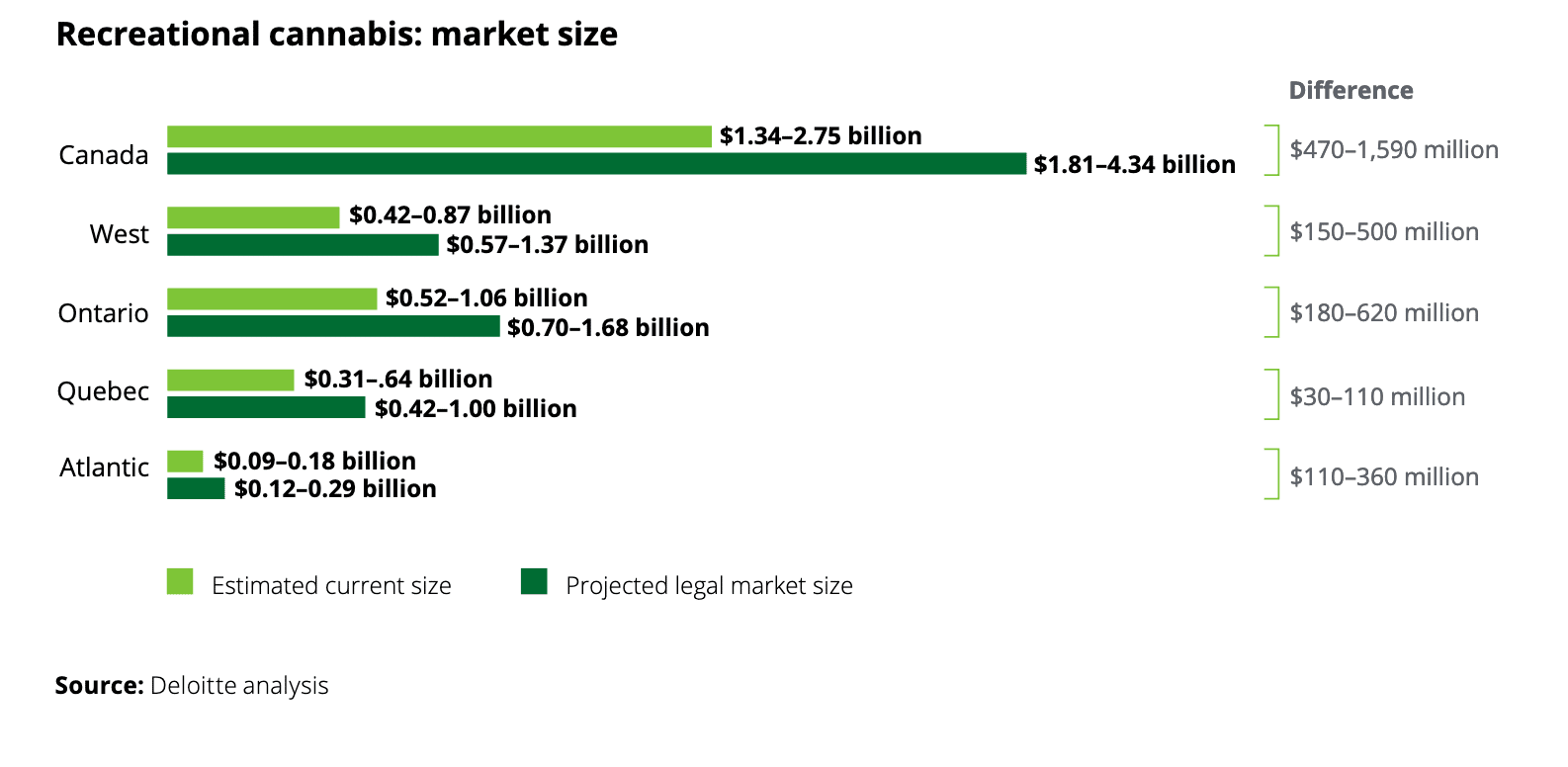 All this growth comes at a cost. As companies go public and deal with new regulations, they face risks. If you serve as an executive or director for a cannabis company, you will inevitably face exposures that could jeopardize your personal assets. A comprehensive Directors & Officers insurance program can vital to the stability of your organization.
Cannabis IPOs
In recent years, multiple cannabis companies have gone public. Despite the favorable legislative landscape, cannabis IPOs have experienced rocky times recently.
According to the Motley Fool, many Canadian marijuana stocks sank during the fourth quarter of 2018. However, 2019 has been shaping up to be a better year, with at least a dozen Canadian marijuana stocks experiencing increases of more than 50% year to date.
It's certainly been a volatile time. According to MarketWatch, as of May 20, 2019:
Canopy Growth Corporation (CGC), which became the first publicly traded cannabis company in North America in 2014, has year-to-date growth of 61.03%.

Tilray Inc. (TLRY), which became the first cannabis company to be traded on the Nasdaq in 2018, has a year-to-date change of -37.37%.

Aurora Cannabis Inc. (ACB) has year-to-date growth of 71.17%.

Halo Labs Inc. (HALO: AQL) has year-to-date growth of 128.13%

Namaste Technologies Inc. (N) has year-to-date growth of 7.5%

Cronos Group Inc. (CRON) has year-to-date growth of 41.96%.

Source: EY Cannabis Report, 2017
Legal Climate & Risk Management
All companies face risk, and cannabis companies are no exception.
US Relations
For one thing, the legal status of cannabis remains hotly debated in the U.S., complicating the expansion picture of Canadian companies. The 2018 Farm Bill legalized hemp and hemp-based cannabidiol in the U.S. Additionally, many states have legalized recreational and/or medical marijuana. However, marijuana is still illegal on the federal level, resulting in a highly complicated legal and financial environment for marijuana companies operating under state laws.
Nevertheless, the promise of growth is leading companies to forge ahead. Forbes reports that Canadian cannabis companies have been acquiring U.S.-based cannabis companies and entering the growing cannabidiol market, while U.S. backers have been investing in Canadian-based cannabis companies.
This international exchange doesn't always go smoothly. Even just crossing the border can prove difficult for cannabis workers. According to Financial Post, the U.S. Customs and Border Protection detained at least a dozen Canadians entering the U.S. to attend a cannabis conference in Las Vegas. One Canadian investor received a lifetime ban against entering the U.S.
Canadian Regulations
Even within Canada, regulations are still evolving. For example, the law that made recreational marijuana legal did not permit the sale of edibles. Now, new regulations are being proposed to allow edibles, but the details need to be worked out.
Product Liability
Product liability is another serious issue for cannabis companies. Proper labeling is crucial. Even so, bodily injury and property damage could result from the use of the psychoactive drug, and contamination with mold or pesticide could also result in recalls and liability. According to Denver's Department of Public Health & Environment, there were numerous marijuana recalls over contamination issues between 2015 and 2017.
Other risks stem from the industry's novelty. For example, as a new industry, cannabis companies face unclear demand. As soon as marijuana became legal in Canada, the country experienced widespread shortages.
Why Is D&O Insurance Important for Canadian Cannabis Companies?
D&O insurance is important for executives and board members in any industry. However, as an emerging industry built around a formerly illegal (and, in many places, currently illegal) substance, the cannabis industry is especially risky. Companies must navigate new, evolving and uneven regulations. The legal climate sometimes seems to be changing daily, making it hard for companies to keep up.
If your cannabis company is going public, you'll encounter even more regulatory exposure. IPOs have to deal with the SEC. Additionally, because public companies have more stakeholders, they also face higher claims activity. If executives speak too optimistically about the prospects of their cannabis IPOs, they can be accused of misleading shareholders.
Several recent lawsuits have highlighted the importance and a solid D&O policy for cannabis companies:
Cronos Group Inc. has faced securities litigation.

MedMen, a cannabis retailer, and its executives have been sued.

Aphria Inc. has been hit with a securities lawsuit.

CV Sciences, which manufactures and sells CBD products, has been sued for securities violations.
Whether or not a lawsuit against your company is successful, the defense costs can be significant. If a lawsuit is successful, you could be facing multi-million-dollar settlements. And it's not just the company that's at risk. If you're named as an executive, your personal assets could also be at risk. D&O insurance for cannabis companies provides protection against this possibility.
Three Keys to Securing the Right D&O Policy
Knowing you need a D&O policy is one thing. Getting it is another. Watch out for these issues when reviewing your D&O program or getting new quotes.
Carriers –

Not all carriers are offering D&O policies for the cannabis industry, so finding one that's willing to insure your business can be a challenge. At Founder Shield, we have great partnerships with the leading D&O underwriters for this class of business.

Pricing –

Cost is often dictated by the financial stability of your company. However, you may be able to secure more favorable pricing by asking your agent to set up a call with the underwriter. Showing that the executives of the company have experience in both business and the cannabis industry is very reassuring to underwriters.

Exclusions and carve-outs

– Be aware of regulatory and cannabis exclusions. Also, make sure both the U.S. and Canada are covered territories if applicable to the business.
Partnering with the right broker
As your company grows, D&O insurance becomes increasingly important, particularly if you're considering raising additional funding or positioning for an IPO. Make sure your D&O insurance program is aligned with your success. Partnering with the right insurance broker is critical to navigating risk management while the cannabis industry is still blooming.
At Founder Shield, we partner with the leading international carriers that develop D&O programs specifically for cannabis companies. We work with some of the top public cannabis companies in Canada and craft tailored D&O policies that allow them to focus on the things that matter, growing their business.
If you're considering an IPO or interested in learning more about a customized D&O insurance program for cannabis companies, you can always reach out to a member of our team by phone 646.854.1058 or email info@foundershield.com at any time. Or create an account here to get a quote!